KRAIBURG TPE participates in a large range of applications, with their thermoplastic elastomers, whether from their diverse product portfolio or a custom-tailored material depending on their customer application. When it comes to the industrial market, they have developed compounds specifically engineered for consumer electronics, building sectors, power tools and white goods.
CS series

KRAIBURG TPE's CS series is a material solution for sealing applications, with adhesion to Polypropylene (PP). The compounds are available in black and natural colors. Natural color variants can be adjusted in a wide array of specific hues to fit customer needs. Typical applications, where KRAIBURG TPE has had success in with the CS series are attenuators for electronic housings, handles, cable holders, seals, fastenings, grommets, connectors, bumpers, and various mechanical components.
Material advantages that customers benefit from are adhesion to PP, optimized compression set, long-term sealing function, optimized mechanical and flow properties, hysteresis, temperature stability up to 110°C and demolding ease. The adhesion to PP is in accordance with VDI 2019 (EU standard) which describes the adhesion testing of TPE materials to substrate materials, usually hard thermoplastics, using multi-component injection molding or insert molding.
AD1/CS Series
Similarly, The AD1/CS series is a material solution for applications requiring optimized compression set and adhesion to polar thermoplastics such as ABS, PC, and PC/ABS. The compounds are available in black and natural colors. Likewise, to the CS series, the AD1/CS series can be adjusted in various specific colorings to adhere to customer needs. Typical applications for this series include seals for housings, cable holders, appliance feet bumpers, attenuators for electronic housings, electric and electronic components, flexible connectors grommets, and soft touch surfaces such as thumb wheels, push buttons, switches.
Material advantages for AD1/CS series are adhesion to PC, ABS, PC/ABS, ASA, SAN, also in in accordance with VDI 2019. In addition to this, the AD1/CS series has other material advantages, such as adhesion to PBT, optimized compression set and strong mechanical properties, and resilience.
Appliance Industry
The CS and AD1/CS series are commonly used in home appliances and whitegoods such as vacuums, kitchen appliances, stoves, refrigerators, dryers, and washers. KRAIBURG TPE materials are used in these applications for seals as well as gaskets and have adhesion to a wide variety of different plastics components
The CS and AD1/CS series are available to customers in the Americas region. KRAIBURG TPE market specialists and engineers are available to assist customers in with their specific needs and applications, such as seals, gaskets, grommets within the industrial sector. They are proud to emphasize their astounding reach in custom engineered TPE solutions to tackle processing and surface challenges faced by customers.
Featured Product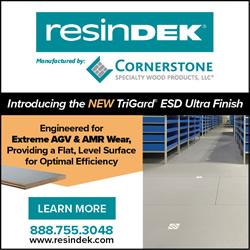 To maximize the productivity of an autonomous mobile robot (AMR) or automatic guided vehicle (AGV) deployment, it's critical to create the optimal environment that allows the vehicles to perform at their peak. For that reason, Cornerstone Specialty Wood Products, LLC® (www.resindek.com) created the TriGard® ESD Ultra finish for its ResinDek® engineered flooring panels. The TriGard ESD Ultra finish is ideal for high-traffic robotic applications characterized by highly repetitive movement patterns and defined travel paths.