New Chicago lab provides a testing ground for institutions to explore and innovate solutions to solve their toughest challenges.
Oracle and Festo are joining forces to help educators create new opportunities and solve tough challenges at the Oracle Industry Lab. Opened today, the facility provides hands-on, simulated industry settings for customers to experiment, learn, and bring transformative technologies to life.

At the lab, visitors will interact with a sophisticated Festo "Learning Factory" used in training and workforce development programs worldwide. The Learning Factory models the next generation of Industry 4.0 production facilities and provides students with a holistic platform to understand Smart Manufacturing. The automated machinery uses advanced sensors, controllers, and software to produce "Lot Size One" simulated cell phones. Students learn and follow the process from order entry through production to final distribution.
"We are thrilled to be working together with the Oracle Industry Lab where we partner with the leading information company to harness the power of data for the education and training sector. The demand for skilled workforce in manufacturing is skyrocketing, and innovations such as this will prepare the next generation of workers," said Ted Rozier, Director of Engineering, Festo Didactic Inc.
The 30,000-square-foot Oracle Industry Lab brings customers, technology partners, and the entire Oracle portfolio of solutions and decades of deep industry expertise together to incubate and demonstrate new solutions across industries. Supported by Verizon 5G Ultra Wideband, the Oracle Industry Lab will first focus on use cases in utilities, construction and engineering, communications, and manufacturing.
"Many industries are at a crossroads as they look to navigate increasing regulatory, environmental, and customer-driven demands," said Burcin Kaplanoglu, vice president, Oracle Industry Labs. "We built the Chicago lab to bring together leading innovators like Festo Didactic so we can jointly help customers shape bold ideas into powerful solutions that improve productivity, operational intelligence, and sustainability."
About Festo
Festo is a leading manufacturer of pneumatic and electromechanical systems, components, and controls for process and industrial automation. Festo Didactic leverages its automation expertise to provide comprehensive industrial and technical education solutions. Festo is committed to providing educators and employers with the hands-on training, digital coursework and blended learning solutions needed to close the STEM skills gap. Our lab equipment, curriculum and certification programs are thoughtfully designed to support various learning pathways and on-the-job training. With 4,000+ FICP certifications and 36,000 Festo-equipped educational institutions, Festo Didactic and its partners are preparing students and employees for the future of work. http://www.festo.com
Featured Product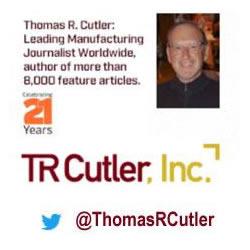 Cutler authors more than 1000 feature articles annually regarding the manufacturing sector. Cutler has established special divisions including African manufacturing, Colombian manufacturing, Gen Z workforce, and Food & Beverage. Cutler was recently named the Global Supply Chain journalist of the year for the second time in a row. Over 5200 industry leaders follow Cutler on Twitter daily at @ThomasRCutler. Contact Cutler at trcutler@trcutlerinc.com.