The NORDAC FLEX SK 205E has a large power range of 0.33 – 30 HP, a compact design, and allows high precision in synchronous and positioning applications via integrated POSICON control.
NORDAC FLEX variable frequency drives from NORD DRIVESYSTEMS are extremely versatile, offer a wide power range, and are very economical. The SK 205E series has been specially designed for use with airport baggage transport systems, conveyor systems in parcel distribution centers and warehouses, as well as other intralogistics applications.

The NORDAC FLEX SK 205E has a large power range of 0.33 - 30 HP, a compact design, and allows high precision in synchronous and positioning applications via integrated POSICON control. Another advantage is the precise and rapid current vector control that ensures constant speeds with fluctuating loads. The SK 205E also offers maximum flexibility and energy efficiency, especially during partial load operation.
NORDAC FLEX variable frequency drives can be installed close to drives in the field or integrated onto their motors. Plug-and-play power and data cable connections are available to make set up extremely easy, and the decentralized system enables short motor/encoder cables as well as short supply cables to sensors. FLEX VFDs come in 4 sizes and can be used to control standard asynchronous motors, high-efficiency synchronous motors, and brake motors.
With the FLEX VFD series, encoder feedback can be realized for applications such as position-controlled transport systems. These VFDs feature 4 digital inputs and 1 digital output, and their high overload capacity makes dynamic movements with short start and stop times or cyclic operation possible. The gear unit can also be monitored via an optional NORDAC ACCESS BT Bluetooth interface paired with the NORDCON APP software. With this system, errors can be quickly diagnosed and remedied to prevent unscheduled maintenance and downtime. Drive parameterization is also possible via the integrated diagnostic interface that comes with the free NORDCON software tool.
The SK 205E features a total of six digital and two analog interfaces, two encoder interfaces, and one integrated PLC for programming functions close to the drive. A wide range of extensions through optional modules are possible as accessories. For example, a communication interface that supports commercially available Ethernet dialects as well as extensions for functional safety such as PROFIsafe and STO.
The NORDAC FLEX SK 205E is a feature-rich, versatile part of the NORDAC family of variable frequency drives. For more information about this or other NORD products, visit https://www.nord.com/.
About NORD DRIVESYSTEMS® Group
With more than 4,000 employees, NORD DRIVESYSTEMS has been developing, producing, and selling drive technology for over 50 years, and it is a global leader among full-service providers in the industry. In addition to standard drives, NORD delivers configurable, application-specific designs and solutions for special requirements. NORD has subsidiaries and sales partners in 98 countries worldwide. The dense sales and service network guarantees optimal availability, enabling short delivery times, and customer-oriented service. NORD produces a diverse range of drives for torques from 88 to up to 2.5 million lb-in, provides electric motors in the power range of 0.16 - 1,341 HP, and manufactures frequency inverters with the required power electronics of up to 200 HP. Inverter solutions are available for conventional control cabinet installations as well as for decentralized, fully-integrated drive units. Visit www.nord.com.
Featured Product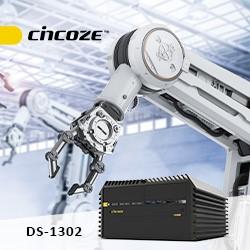 Powered by 10-core 10th-gen Intel® Xeon® or Core™ CPU, the DS-1300 is a rugged, high performance, highly expandable embedded computer. It supports up to two PCI/PCIe expansion slots (combined max 110 W), various commercially expansion cards available in image capture cards, motion control cards, or GPU cards. The DS-1300 series is suitable for deployment in industrial automation, factory automation, machine vision, AIoT and applications requiring high computing power in harsh environments.