Unique patent-pending solution is only carbon-fiber detection sensor on the market
Turck has launched a new line of inductive sensors specifically created to detect carbon fiber materials and pressed carbon parts. These sensors are patent-pending and are ideal for use in the automotive industry. Carbon fibers are being used in production of vehicle's interiors and body shells, for example. They are less susceptible to contamination than optical or capacitive sensors while also being significantly more economical than ultrasonic sensors.

With high reliability thanks to its Turck Uprox-based technology and wide temperature range of
0-100° C, these IP68-rated sensors are ideal for use in automotive manufacturing as well as alternative energy and sporting goods manufacturing. Available in three designs: M18 threaded-barrel sensor in stainless steel housing and CK40 and QR20 rectangular sensors in plastic housing.
About Turck
Turck is a pioneer in automation technology, providing customers with a comprehensive line of quality and advanced technology products in a fast, flexible and accurate manner. With more than 4,800 people working in 30 countries, Turck has built global partnerships with customers based on engineering expertise, flexibility, and our willingness to take on engineering challenges that others will not. For more information, visit www.turck.us.
Featured Product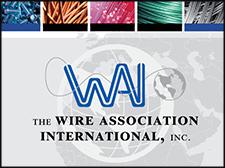 The Wire Association International (WAI), Inc., founded in 1930, is a worldwide technical society for wire and cable industry professionals. Based in Madison, Connecticut, USA, WAI collects and shares technical, manufacturing, and general business information to the ferrous, nonferrous, electrical, fiber optic, and fastener segments of the wire and cable industry. WAI hosts trade expositions, technical conferences, and educational programs.