Versatile hinge system with Snap-on installation technology and Soft-close and Self-close options
Kernersville, N.C.: Grass America, a leading supplier of functional hardware to the cabinet industry, announces the Nexis series, the classic choice among hinge systems, offering a vast selection of hinges and specialty hinges that meet any application requirement, including face frame or frameless cabinets. The extensive range of Nexis design solutions includes Soft-close and Self-close closing action options and Nexis Impresso hinges for fast, tool-free installation.

Nexis hinge systems are known for proven technology, functionality, operating comfort, and versatility. Opening angles range from 95° to 170°, including hinges designed for special applications such as corner angle and pie-cut corner applications. Nexis, offered in a screw-on and dowelled version, is available in 42mm, 45mm, and 48mm boring patterns, and the Nexis Impresso is offered in 42/45mm and 45/48mm boring patterns.
The quick and easy installation of the Impresso tool-free hinge series is useful in flat-packed cabinetry that is shipped unassembled with pre-drilled doors. For mounting, the Nexis Impresso hinge inserts into the bored door; closing the hinge flap locks the hinge in place. Due to a 3-point connection of hinge cup to door, the Nexis Impresso sits firmly and securely in the door. The Nexis Impresso is perfect for door materials such as particle board, solid wood, and MDF board.
Installation of the Nexis Snap-on hinges is also user-friendly and reliable. Attaching the door is carried out with a base plate and screws or press-fit dowels. Just pressing down the hinge with a finger is enough to attach it to the base plate. An audible click gives assurance that the hinge is securely attached. The hinge can be detached from the Snap-on base plate by simply releasing it with the lever at the front of the hinge arm.
###
About Grass America
Grass America is a quality-driven manufacturer of hinges, drawer slides, lifters, and drawer systems. The company's first-class movement systems keep America's kitchens, baths, and office facilities operating at their best. Grass America's manufacturing facility in Kernersville, North Carolina, sells functional hardware and accessories throughout the US, Canada, and Mexico via 130 distributor locations and to most of the leading kitchen cabinet manufacturers. The company is proud that its employees come from all over the world and often reach more than 30 years of experience. Choose Grass as your reliable partner in business for functional hardware. Learn more at www.grassusa.com.
Featured Product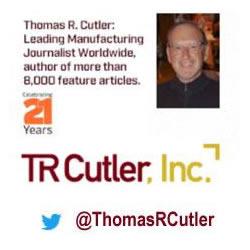 Cutler has authored more than 8000 articles for a wide range of manufacturing periodicals, industrial publications, and business journals including most of the leading monthly trade publications.