Conference offers 100+ sessions across 14 technology tracks with its lowest rates yet
CHICAGO (JULY 15, 2021)—FABTECH, North America's largest metal forming, fabricating, welding and finishing event, is pleased to announce this year's conference line-up is now live, providing attendees with targeted technical, operational, economic and managerial sessions to help improve productivity and increase profits. Set to take place in Chicago's McCormick Place September 13-16, 2021, FABTECH is celebrating the return of in-person industry education with its lowest registration rates to-date.

"By returning to in-person sessions after two years, we could not be more excited to offer FABTECH's lowest conference rates ever," said John Catalano, SME senior director, FABTECH. "FABTECH is thrilled to be providing companies of all sizes the opportunity to prioritize training. As the industry looks to address key issues like managing steel prices and advances in automation, we believe education is critical to finding solutions. FABTECH is dedicated to providing a platform for learning that aims to prepare attendees of all experience levels with the resources and support to accelerate their careers."
FABTECH's solution-based, transformative content will take attendees beyond the show floor, exploring answers to today's biggest challenges with industry thought leaders and subject matter authorities set to lead collaborative discussions and presentations. Proving that FABTECH has always been the place to exchange best practices and explore the latest technology and advancements, its conference tracks will include 3D/Additive Manufacturing, Automation, Cutting, Finishing, Forming & Fabricating, Job Shop, Laser, Lean, Management, Marketing & Sales, Smart Manufacturing, Stamping, Welding and Workforce Development.
Noteworthy sessions include: Meeting Changing Buyer Expectations Through Digital Transformation; Leveraging A.I. in Industrial Manufacturing; Estimating Software to Manage the Job Shop; Ensuring a Successful Product Launch; Strategies to Create a Workplace Culture That Works; The Art of Assertive Communication; and more. Click here for a complete schedule-at-a-glance.
Save on conference sessions with early bird registration open now through July 31. For more information and to register, visit fabtechexpo.com.
###
ABOUT FABTECH
FABTECH is North America's largest metal forming, fabricating, welding and finishing event. The event provides a convenient venue where you can meet with world-class suppliers, see the latest industry products and developments and find the tools to improve productivity and increase profits. FABTECH is made possible by its five event partners, all of whom represent the varied and diverse makeup of the manufacturing industry. They include the American Welding Society, the Chemical Coaters Association International, the Fabricators & Manufacturers Association International, the Precision Metalforming Association and SME.
Featured Product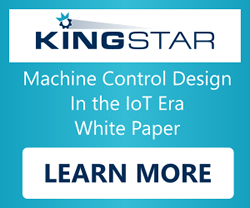 These success stories seek to highlight the industry-level challenges faced, the resulting automation and motion control requirements that need to be addressed, the results that can be achieved and the key platform strategy that allows customers to distinguish themselves in the worldwide market. Download the WhitePaper.