CRP Technology will be attending the inaugural edition with an online presentation with Q&A dedicated to the advantages of PBF process and Windform® composite materials for the marine equipment. The speech is set for Tuesday 6th July 2021 at 14:20 BST. The 2 days in-person event will take place in Southampton, UK, 6th - 7th July. CRP Technology's latest release Windform® RS Carbon fiber filled composite material will be introduced
CRP Technology, the world-leading company in professional 3D printing/PBF process with its patented Windform® fibers-reinforced composites, will be attending MarineAM 2021, the two-day conference and exhibition focused on advanced materials for the marine sector. The event takes place on 6th-7th July 2021 at Southampton Harbour Hotel, Southampton , UK.

CRP Technology will be giving an online presentation dedicated to the advantages of PBF process and Windform® composite materials for the marine equipment. The speech is set for Tuesday 6th July at 14:20 BST; Q&A session will be following.
"We have been invited to take part in the event as industry innovator - states Ing. Franco Cevolini, VP and CTO, CRP Technology - and we accepted with pleasure. MarineAM rallies thought leaders, keynotes members and selected speakers with a clear passion for innovation and technology, ready to share their latest experiences and developments with attendees."
CRP Technology will explain how the Windform® composite materials, originally developed for the motorsports industry, are now finding many uses in other highly performing and demanding sectors, thanks to their mechanical characteristics.
Ing. Cevolini adds: "3D printing PBF process and Windform® materials allow the manufacturing of finished parts as well as functional prototypes for marine equipment applications, highly customized, avoiding the construction of molds and or permanent toolings, with no limits in design. Let me cite just a few examples: small and medium parts or elements on the main deck, non-metallic marine motor components. The presentation will offer technical information about a technology that is not magic, but that surely brings benefits to the marine industry."
MarineAM will give participants the opportunity to learn about the latest innovations, advancements and projects all taking advantage of advanced materials within the Marine sector. Bringing together designers, material suppliers, innovators and investors, MarineAM will look at the latest and greatest in the world of marine craft and vessels, marine technology and engineering. Attendees, sponsors and organisers have one key objective; to deliver the best possible opportunities and outcomes for the Advanced Materials industry. MarineAM is part of Advanced Materials Events brought to audience by Fluency Marketing to offer companies a place to learn, network and share ideas and innovations whilst creating business opportunities.
crptechnology.com
windform.com
Featured Product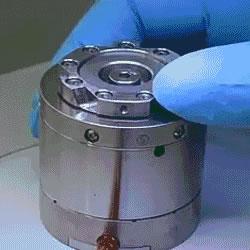 Hexapod micro-motion 6-axis platforms are based on a very flexible concept that can easily solve complex motion and alignment problems in fields including Optics, Photonics, Precision Automation, Automotive, and Medical Engineering.