A large selection of off-the-shelf products and customized solutions ready within 5 business days
Mineola, NY - KHK USA Inc., a factory owned distributor of the market leading KHK® brand

of metric gears, announces its extensive line of metric internal ring gears. KHK's large selection
of internal ring gears are designed for use in planetary gear trains and are suitable wherever high-
speed reduction is required.
Internal gears, also known as Ring gears, are cylindrical disks which have involute shaped teeth
cut into their interior face. KHK internal ring gears are offered in carbon steel, with many
configurations of modules and numbers of teeth. All KHK internal ring gears allow for
secondary operations such as adding through or tapped holes in the face. KHK's quick
customized products can be ready within 5 business days.
Two categories of KHK Internal Gears are available. KHK Steel Internal Gears (SI), typically
with 50 to 100 teeth, are a low-cost option that is suitable for many applications. KHK Steel
Ring Gears (SIR) are larger in size and number of teeth, typically between 120 and 200 teeth,
and can be cut to make segment gears and corner racks.
The production process of KHK cylindrical gears, including internal ring gears, depends on
consideration of tooth size expressed in module or DP (diametral pitch), configuration, material,
heat treating, method for finishing the tooth surface, precision of the gears and manufacturing
quantity. The typical production sequence involves cutting off material, blank making on a lathe,
tooth cutting on a hobbing machine and deburring. KHK also offers a new method in which a 5-
axis machining center is used in combination with gear manufacturing software.
For more information on KHK Internal Ring Gears, please visit:
https://www.khkgears.us/products/internal-gears/.
###
About KHK USA Inc.
KHK USA, based in Mineola, New York, is a wholly owned subsidiary of Kohara Gear Industry.
KHK USA is a factory direct, full-service distributor of KHK gears with a large selection of
product available off-the-shelf to meet your gearing needs. On staff application engineers assist
customers with a wide selection of gears for their design and can produce customer gear
quotations.
Featured Product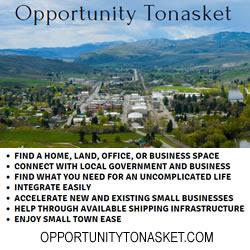 Our primary mission is to promote economic development and growth in the city of Tonasket, WA and surrounding area. This is a group of local citizens sharing a common goal. We wish to assist and promote existing businesses wishing to relocate, local businesses wishing to expand and local individuals wanting to startup a business. Preserving and enhancing the small town and rural lifestyle in a way which benefits everybody and maintains a healthy lifestyle. Opportunity Tonasket was created to be a hub for information and contacts with local city and county agencies, as well as local businesses and real estate connections. Their goal is to connect current and newly relocated individuals and businesses and "plug them in" with the best services, advice and experts in the area. Opportunity Tonasket is like a leg-up, as if one's already had a foothold in the community.