Viewers can learn about applications for and technology behind the company's industry-leading anodized aluminum products
Muskegon, MI - Lorin Industries, Inc., the global industry leader in the innovation and production of coil anodized aluminum, highlights its YouTube channel, which features educational and engaging videos about anodized aluminum products, technology, applications, and more.

"Lorin is not just an industry leader for high-quality anodized aluminum technology. We're also dedicated to providing valuable education to the market about how anodizing protects and adds beauty to aluminum products, what applications see the greatest benefits from anodized aluminum, and how different products can serve different needs," said Steven Soderberg, Corporate Marketing Manager, at Lorin Industries. "This YouTube channel serves those educational purposes. Videos help to make the technology and products come alive."
The video offerings, which are added to regularly, currently include information about Lorin's unique AnoGrip® and Adhere® products for transportation applications, as well as perforated aluminum products for construction and architectural projects. Other videos include a highlight of the trend for weathered-looking materials, a project case study, and a video about Lorin as a company.
Viewers can subscribe to stay up to date with the latest videos from Lorin. To explore more about Lorin's offerings on the company's recently-updated website, visit www.lorin.com.
###
About Lorin
Lorin Industries, Inc. has provided coil anodized aluminum to markets worldwide for over 60 years. Our history of global leadership in anodized aluminum finishing for architectural markets began with bringing the process to market in 1953, and continues today with industry leading innovation. Lorin has worked with some of the world's foremost architects, designers, and fabricators to create new and exciting building designs that last throughout generations.
Whether used for exterior wall cladding systems, roofing systems, sunscreens, interior panels, or decorative interior applications, the possibilities for coil anodized aluminum are infinite. The natural beauty of Lorin's anodized aluminum finishes brings newly constructed and renovated buildings to life, while providing a strong durable surface that will never chip, flake, or peel. Additionally, Lorin's coil anodized aluminum products have been used for automotive, transportation, consumer appliances, and any number of other industries, with the same excellent aesthetics and durability long proven in architectural applications. At Lorin, we can help you reflect your vision with Lorin anodized aluminum.
For additional information visit www.lorin.com and follow Lorin on Twitter, Facebook, and LinkedIn.
Featured Product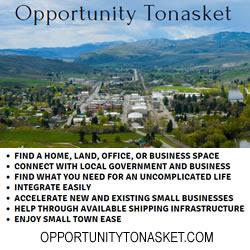 Our primary mission is to promote economic development and growth in the city of Tonasket, WA and surrounding area. This is a group of local citizens sharing a common goal. We wish to assist and promote existing businesses wishing to relocate, local businesses wishing to expand and local individuals wanting to startup a business. Preserving and enhancing the small town and rural lifestyle in a way which benefits everybody and maintains a healthy lifestyle. Opportunity Tonasket was created to be a hub for information and contacts with local city and county agencies, as well as local businesses and real estate connections. Their goal is to connect current and newly relocated individuals and businesses and "plug them in" with the best services, advice and experts in the area. Opportunity Tonasket is like a leg-up, as if one's already had a foothold in the community.