As the shortage of tinplate and tin-free steel materials in the country is impacting the food packaging industry, it is time to look at some of the best alternatives to metal food packaging material.
Food Packaging Equipment Market

Packaging is a significant segment in the food industry, as it serves multiple purposes for organizations such as not merely food handling, preservation, and safety but also branding and marketing. Packed has become a vital element of the food processing industry now.
Food packaging equipment market is growing at a rapid pace in the country. As stated by Reportlinker, the Indian food and beverage packaging market is expected to reach USD 122.78 billion by 2025, with an increased rate of 29.88percent per year during the subsequent five decades. The packaging industry in India is forecast to enroll a CAGR of 26.7percent between 2021 and 2026 with major participation from the food industry, according to the Mordor Intelligence report.
The food packaging industry in India is majorly driven by various factors like rising interest in online and packed food, increasing consciousness regarding food safety, rise from the standard of living of middle-class people in the country, etc.
Sorts of Metals Used in Food Packaging We know that metals have been utilized in food packaging. Now we will look at the different sorts of alloys and metals used for packaging in the food industry. Aluminum, steel, tin, etc., are just some of the metals largely utilized in food packaging.
Aluminum
Aluminum and its alloys containing elements like magnesium, silicon, iron, aluminum, zinc, etc. . are highly resistant to rust.
This makes them a preferred choice for food packaging. Steel is among the very commonly used packaging materials. Electrolytic chromium/chromium coated oxide coated steel has wide applications in food packaging technology such as cans, can endings, etc. Steel coated with bark called an electrolytic tin plate is also useful for packaging.
Tin is generally employed as a thin coating on steel and other alloys from the packaging. It is applied through an electrolytic procedure. Standard metals react with food-inducing decomposition. The bark layer coating prevents the compounds from rust and chemical reactions with the food solutions. Shortage of Tinplate & Tine-free Steel in IndiaThe metal packaging industry in India which may be worth 10,000 Crores is confronting a lack of tin plate and tin-free steel. The Government of India imposed a BIS benchmark over the import of tinplate and tin-free steel on 17th July 2020, also recently expanded it before 17th July 2021.
"In the aftermath of acute lack of tinplate/ tin-free steel stuff that is basically utilized to manufacture containers and cans to pack processed food and fruits, the processed food packaging industry is feeling a pinch," said Metal Container Manufacturers
Association of India in a press release.
Though some exporters from foreign nations have applied for BIS enrollment, the approval process was halted due to this Covid-19 second wave in the country. This has led to a severe shortage of tin plates and tin-free steel, which will be the naturally occurring substances for metal packaging.
Alternatives to Metal PackagingAs the tinplate shortage in the nation is impacting the food industry, let us examine a few of the best alternatives to metal food packaging material satisfying the properties of metal packaging. Apart from metal, several types of materials such as plastic, glass, etc.. . are used for packaging in the food market.
Paper Packing
Paper is employed as a packaging material in the food industry. It is easily available, recyclable as well as economical. Paper packaging has become easily the most viable business idea for medium and small-scale industries as it takes less investment. It can be initiated with a minimum investment of 20-30 lakhs. Perhaps, plastic is the most commonly used packaging material in the food industry in addition to some other industries like pharma, compound, FMCG, etc. Plastic is well known because of its flexibility, durability, and lightweight. Today, the usage of sterile plastic materials is now slowly gaining traction with growing concerns regarding the environmental pollution due to plastic. The investment required for that plastic packaging industry with minimal capacity ranges from 50-70 lakhs.
Glass Packaging
Glass is just another option for metals in food packaging. Unlike newspaper, glass is more resistant to rust and moisture to chemical responses. It is mostly used for foods with a more shelf life. The investment required to start glass ranges from 5-10 crores.
Considering the existing metal deficit for the food packaging industry in the nation and the dire situation of this food packaging industry owing to lack of essential metals, it really is more than a necessity to learn more about the accessible alternatives to metal food packaging material. It is the ideal time for MSMEs from the country to come into the food packaging industry with a focus on choices for metal packaging. Yet, creating a business is simpler said than done, because it involves many matters which require advice from experts.
If you're planning to enter into packaging and wish to know how exactly to begin a food packaging business in India, then kindly register with SolutionBuggy. We give you access to trusted and verified pros who are able to help you in preparing the food packaging industry. We help you right from market research, DPR, financing plant setup and machinery deployment to product creation, prices, sales, and marketing, etc.
Keywords: #Metal Food Packaging, #Food packaging equipment, #Metal food packaging material, #Food packaging industry
Featured Product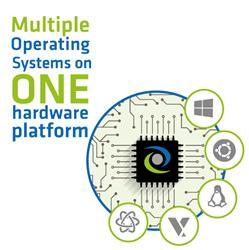 The RTS Hypervisor enables work-load consolidation of both real-time and non-real-time operating systems on a single x86 based platform. Unlike traditional virtualization, we partition and allocate the hardware for each work-load and provide a "privileged" mode for real-time operating systems that guarantee zero impact to determinism while adding zero jitter. This is instrumental for work-loads such as robotic controllers managing motion control where minimum jitter is required. And, our hypervisor is designed for easy setup and configuration for any work-load consolidation scenario. This equates to deterministic real-time applications taking advantage of all the benefits of virtualization immediately, without costly implementation projects.