CESMII has selected ThinkIQ to increase yield, reduce waste and quantify the impact of variability in the supply chain for one of the world's largest food companies.
CESMII selected ThinkIQ for inclusion in their co-funded Smart Manufacturing Innovation Projects. This project aims to transform poultry processing operations at one of the world's largest food companies, and recognized leader in protein. The project seeks to quantify the impact of variability in the supply chain and the processing of chicken by-products and understand the resulting impact of yield for four product streams, including: bone meal, feather meal, chicken meal, and blood meal.

ThinkIQ will utilize the CESMII Smart Manufacturing Innovation Platform and create Profiles that optimize yield and material utilization on the food company's poultry processing line. This will enable decisions based on real-time constraints in material flows, manufacturing operations, and energy consumption in a protein-based food processing environment. This project will demonstrate increased operational efficiencies that can be extended to other food processing and energy-intensive industries.
"Delivering value through interoperability and scalability is essential," says Doug Lawson, CEO of ThinkIQ. "We are leveraging the CESMII SM Innovation Platform to avoid implementing yet another information island on the plant floor, thereby reducing cost and complexity, and facilitating rapid return on investment."
ThinkIQ's ability to track material flow through the entire process from "farm to fork" will provide the company with a unique view of their entire poultry processing, allowing them to gain visibility into real-time variance in their manufacturing process. This enables them to quantify and reduce impact of variance improving yield, provide feedback in "plant time" to reduce off-spec, waste, etc. and present profit enhancement opportunities throughout the project.
Featured Product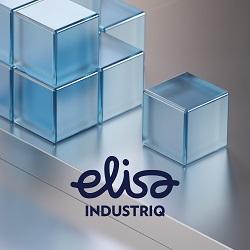 Elisa IndustrIQ's Supply Chain Management (SCM) solution is designed to enhance productivity, efficiency, and effectiveness throughout the entire supply chain. This advanced solution focuses on improving flexibility and responsiveness in both planning and operation execution, crucial for adapting to rapidly evolving markets. Our solution facilitates business growth by offering end-to-end visibility, essential for efficiently managing and streamlining supply chains. Key features include AI-powered demand forecasting, automated quoting and purchasing, intelligent replanning capabilities, structured collaboration tools, and direct supplier integration. These features can be tailored to align with your business and financial objectives, adding a strategic dimension to sales and operations planning and execution. The solution is designed to meet the manufacturing industry's needs for speed, resilience, and efficiency, primarily through innovative approaches to reduce business friction.