• SLM Solutions launches a callout to engineers, designers and artists to submit their 3D designs for its "Print the Future" competition • The winner will have their design printed by an SLM Solutions system, and it will be showcased on the company's social media platforms
Lübeck, Germany, May 07 2021. SLM Solutions has launched a new competition to inspire artists, designers and engineers to design with metal 3D printing in mind. Its "Print the Future" competition - launched online last Friday - has asked people to submit and upload their 3D designs, one of which will be built by one of the company's future-forward systems. SLM Solutions sees this as an opportunity to connect a community of designers to compete at expert level of design for AM. Complex geometry? Submit it! Hard to resolve angles? Challenge us! Let's push the bounds together.

"The point of the competition is to open up metal-based additive manufacturing to those not normally able to take advantage of it," says Sam O'Leary, the company's CEO. "To many, additive manufacturing is seen as something unreal. However, it's a future that has already arrived at the doorstep of many sectors and is disrupting traditional manufacturing as we speak. We are now setting a new paradigm." He further comments, "We hope to open people's minds with what's possible in the world of metal 3D printing with this competition."
SLM Solutions asks people to submit their designs whether functional, beautiful or just plain crazy and select the metal of their choice for the design to be printed, with a significant focus on people presenting their wildest and most original content.
Sam O'Leary concludes, "We hope to open people's minds up to the potential of additive manufacturing with this competition. When more people understand that we are no longer bound by traditional means of manufacturing like CNC milling and welding, and instead have the possibility to create complex geometrical structures and benefit from things such as generative design without having to worry about how it's built, we're going to see a lot of things that we have never seen before."
The competition closes on the 21st of May 2021 and submissions will be reviewed by an SLM Solutions jury. The winner will be selected by the end of May.
About SLM Solutions:
SLM Solutions is an integrated solutions provider and metal additive manufacturing partner. The company takes a vested interest in customer's long-term success with metal additive manufacturing. Robust Selective Laser Melting machines optimize fast, reliable and cost-efficient part production and SLM Solutions' experts work with customers at each stage of the process to provide support which elevates use of the technology and ensures their return on investment is maximized. A publicly traded company, SLM Solutions Group AG is headquartered in Germany, with offices in Canada, China, France, India, Italy, Russia, Singapore and the United States.
Featured Product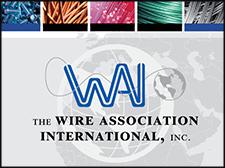 The Wire Association International (WAI), Inc., founded in 1930, is a worldwide technical society for wire and cable industry professionals. Based in Madison, Connecticut, USA, WAI collects and shares technical, manufacturing, and general business information to the ferrous, nonferrous, electrical, fiber optic, and fastener segments of the wire and cable industry. WAI hosts trade expositions, technical conferences, and educational programs.