Intelligent-Appliance presents its newest addition to its line of industrial controllers, the IA-3135-U2i - industrial grade, 32-ch relay board, designed to operate under harshest conditions created by the industrial environment, tolerating high temperatures, vibrations, EMI/RFI noise and more.
The IA-3135-U2i features voltage suppressors on all relay contacts, designed to prevent EMI/RFI noise, resulting in longer relays life, alongside smoother uninterrupted operation.

Its small size, 22x14 cm, makes it the perfect candidate when dealing with small installation spaces, or a complex design requiring a large amount of relay boards.
The DUAL WATCHDOG system is implemented into this module, providing both local protection and wide system protection including the PC and the communication gear.
To make your life a lot simpler, this module comes with pluggable industrial terminals - making wiring and debugging an easy task. The module is both DIN-Rail and Wall Mount ready, allowing you to choose which mounting serves your application best.
To simplify the integration process even more, the Software Support package includes Microsoft Visual Studio and Labview drivers, Operation and Configuration software Utilities, as well as open source code software examples.
This module features the operation of several hundred relays, including the ability to change the state of hundreds of relays simultaneously. this feature is based on Intelligent-Appliance Series-3000 command set and its buffered communication structure.
This command set includes commands that take control over a single relay, 8 relays, 32 relays and "All Selected Boards Relays" providing the system designer with a wide selection of options to choose from.
Similar to all Intelligent-Appliance products, the IA-3135-U2i is both CE and FCC approved and ROHS compliant.
As always, our support team is ready to provide support and assistance throw-out the process of choosing the right relay bord and integrating it into the application. Have a special request or an idea? Intelligent-Appliance's R&D department is always there for you.
For more information on the IA-3135-U2i industrial relay board, and other modules available, please refer to our website: intelligent-appliance.com
Featured Product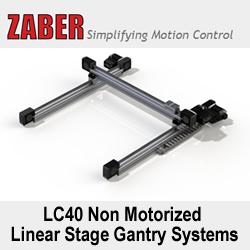 A Zaber gantry kit comes with everything you need to build a customized XY gantry system or XYZ gantry system. These gantry systems feature coordinated multi-axis motion, plug-and-play operation, easy integration with end-effector options, and built-in IO and E-Stop capabilities. An intuitive ASCII interface allows the user to easily communicate with the gantry systems using our free software, either Zaber Motion Library with APIs for several popular languages or Zaber Console. Third party terminal programs that can communicate over a serial port can also be used.