• Virtual, interactive MVTec event on February 3, 2021 • New machine vision trends on topics such as deep learning and 3D vision • Expert presentations, demonstrations, and networking via live stream, an event portal, and video chat
Munich, December 10, 2020 - MVTec Software GmbH (www.mvtec.com), a leading provider of machine vision software, invites guests once again to attend MVTec Innovation Day. On Wednesday, February 3, 2021, visitors will gain practical insight into the latest machine vision topics. In view of the current situation, the event will be virtual for the first time. Experts will be showing trends, technologies, and solutions via numerous live streams that are primarily aimed at developers, programmers, and experienced machine vision users. The MVTec team will also be on hand in the virtual space for personal exchanges and professional conversations, including via video chat. In addition, participants will have an opportunity to visit an exhibition with live demonstrations and to engage in direct discussions. The event will be broadcast in German and English. For detailed information on the agenda and to register for the event, visit www.xing-events.com/mvtec-innovation-day-2021.

Expert presentations and live demonstrations of the latest technologies and trends
The event's focus is on expert presentations on the latest technologies and trends in machine vision, including deep learning and 3D vision, with special emphasis on their practical application. For example, participants will learn how customers can use the new Deep OCR to get the most out of their machine vision applications. Other presentation topics include shape- and surface-based matching, with MVTec experts providing field-tested tips and tricks in live demonstrations using the software that will help developers achieve optimal results. In addition, the MVTec research team will demonstrate how to estimate more precise 6D poses with the help of 2D deep learning - an approach that has already earned the BOP Award 2020 in the "Best Fast Method" category. Identically to last year, guest speakers - for example, from SICK and MSTVision - will discuss topics like the use of HALCON on sensors and edge devices or the development of complex projects using HDevEngine.
Networking and personal exchange in the virtual space
Two different event packages are available: Event Experience "Light" and Event Experience "Full." Whereas the "Light" package already provides access to all live streams, the event archive, and the possibility of posing questions to the presenters, the "Full" package takes complete advantage of the event's interactive character. An event portal is provided that makes it possible to set up personal meetings via video chat, participate in interactive group chats on specific topics, and access a variety of bonus materials. Those who choose the full version also receive an exclusive catering and giveaway package that is delivered to their doorstep in time for the event (only for participants from the EU).
In addition, both packages offer access to a new event app that will guide participants through the day.
About MVTec
MVTec is a leading manufacturer of standard software for machine vision. MVTec products are used in all demanding areas of imaging: semiconductor industry, surface inspection, automatic optical inspection systems, quality control, metrology, as well as medicine and surveillance. By providing modern technologies such as 3D vision, deep learning, and embedded vision, software by MVTec also enables new automation solutions for the Industrial Internet of Things aka Industry 4.0. With locations in Germany, the USA, and China, as well as an established network of international distributors, MVTec is represented in more than 35 countries worldwide. www.mvtec.com
About MVTec HALCON
MVTec HALCON is the comprehensive standard software for machine vision with an integrated development environment (HDevelop) that is used worldwide. It enables cost savings and improved time to market. HALCON's flexible architecture facilitates rapid development of any kind of machine vision application. MVTec HALCON provides outstanding performance and a comprehensive support of multi-core platforms, special instruction sets like AVX2 and NEON, as well as GPU acceleration. It serves all industries, with a library used in hundreds of thousands of installations in all areas of imaging like blob analysis, morphology, matching, measuring, and identification. The software provides the latest state-of-the-art machine vision technologies, such as comprehensive 3D vision and deep learning algorithms. The software secures your investment by supporting a wide range of operating systems and providing interfaces to hundreds of industrial cameras and frame grabbers, in particular by supporting standards like GenICam, GigE Vision, and USB3 Vision. By default, MVTec HALCON runs on Arm®-based embedded vision platforms. It can also be ported to various target platforms. Thus, the software is ideally suited for the use within embedded and customized systems. More information: www.halcon.com, www.embedded-vision-software.com
About MVTec MERLIC
MVTec MERLIC is an all-in-one software product for quickly building machine vision applications without any need for programming. It is based on MVTec's extensive machine vision expertise and combines reliable, fast performance with ease of use. An image-centered user interface and intuitive interaction concepts like easyTouch provide an efficient workflow, which leads to time and cost savings. MERLIC provides powerful tools to design and build complete machine vision applications with a graphical user interface, integrated PLC communication, and image acquisition based on industry standards.
All standard machine vision tools such as calibration, measuring, counting, checking, reading, position determination, as well as 3D vision with height images are included in MVTec MERLIC. Furthermore, the software is able to execute tools in parallel, increasing overall efficiency and improving the implementation of multi-camera-setups. MERLIC's features are all based on the latest state-of-the-art machine vision technologies, such as matching or deep learning. The software is available for Windows-based PC and embedded platforms, making it ideally suited for use in smart cameras. www.merlic.com
Featured Product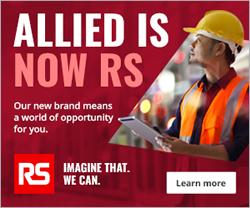 Based off the design pioneered by Anderson in 1953, the two pole SB® connectors set the standard for DC power distribution and battery connections. SB connectors feature a rugged one-piece plastic housing using stainless steel springs to retain the contacts and create the "contact force" that provides extremely low resistance enabling greater electrical efficiency. The SB connectors are also genderless (flip one 180 degrees and they will mate to each other) reducing the customer's bill of materials and providing greater economies of scale when purchasing. The SB series of connectors range in size from SB50 to the SB350. Each family size offers color-coded, mechanically keyed housings designed to prevent both visually and physically cross-mating devices with different voltages. All the connectors are UL rated to 600 volts, so the keys and colors are just identifiers to prevent accidents. Contacts are traditionally Silver plated to minimize electrical resistance while offering supreme durability and reliability.