Project Autopilot is an alarm system for your project-based company. What does that mean? It constantly looks into your projects and detects important changes that may indicate a problem. It then immediately alerts the right people about the issue so it can be dealt with quickly. Project Autopilot guarantees every part of every project is carefully watched at all times, so you don't miss a thing.
ATLANTA, GA, USA - January 12, 2021 - Adeaca Corp., a company dedicated to the innovative advancement of project business, today announced the availability of its Project Autopilot solution. As part of Adeaca's Project Business Automation (PBA) platform, Project Autopilot acts as an alarm system for project-based companies, detecting all the problems in every project in real-time and alerting the right people to those problems instantly so they can be dealt with quickly.

Key Takeaways
Innovation:
For the first time ever, project-based companies can remove the burden of project controls monitoring and enable people to focus on fixing real problems sooner. Project Autopilot constantly captures operational and financial data on every project and analyzes the data based on KPIs and critical thresholds. Once a critical threshold is met, appropriate project stakeholders are notified automatically of that deviation. This enables increased project management capacity, tighter cost control, lower project risk and better project delivery.
Use Cases:
• Project Management by Exception- When every project stakeholder is automatically alerted to any issues that they should know about, they can spend more time focusing on solving the most important problems vs. managing day-to-day activities.
• Transparency and Automated Oversight- When a certain KPI reaches a designated performance threshold, the right people, including executives, are notified automatically ensuring risks are mitigated quickly, resulting in greater cost control.
• Early Detection- No important issue goes unnoticed, allowing any problem to be identified and addressed faster. This early detection enables timely and effective mitigation before small issues become big problems that put the project at risk.
Business Value:
• Better Cost Control: Project-based companies are guaranteed that issues do not spiral out of control into expensive mitigation territory as a result of constant and automated monitoring.
• Improved Risk Readiness: Any risks that jeopardize the health of the project are instantly recognized and prioritized for the right stakeholders, allowing the team to focus on the right issues at the right time and mitigate risks faster, with more accuracy.
• Improved Delivery: Operational issues and delays are pinpointed earlier and more accurately, so corrective actions can be taken ensuring more projects are delivered on time and with better quality.
"There are so many things that can go wrong with projects," said Daniel Bévort, President and CEO of Adeaca. "With all the different moving parts and systems that companies use today, there is just no way they can look at every part of every single projects to figure out what is going on. Most of the time they have no idea there is a problem until it is too late and there is no way to fix it. We created Project Autopilot as part of PBA to guarantee no key issues go unnoticed and projects remain on track."
Adeaca PBA's Project Autopilot provides oversight that never sleeps, making sure that all critical items are seen and dealt with faster, significantly lowering the costs of mitigation and ensuring all projects get successfully delivered.
Learn more about Adeaca Project Autopilot.
About Adeaca
Adeaca is dedicated to creating ground-breaking innovations that can drive project-driven industries forward. To that end, we invented Project Business Automation, with the focus of providing an all-in-one business management solution for project-based companies.
Our solutions solve fundamental project business management problems for project-centric organizations that have been ignored for decades. With PBA and its transformative innovations, companies in construction, engineering, engineer-to-order manufacturing, and professional services finally have a platform to reimagine how to run their entire business.
Headquarters:
Adeaca Corp.
Terminus
3280 Peachtree Road NE, 7th Floor
Atlanta, GA 30305
United States
Media Contact:
Shina Neo, Media Relations Specialist
(470) 775-5534
shina.neo@adeaca.com
Featured Product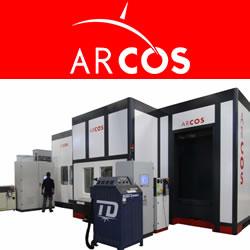 Robotized system for grinding and cutting with discs and the precision cutting with plasma technology of aeronautic parts. This Robotized system is produced for the finishing of aeronautic parts. This machine utilizes the grinding and cutting with a Ø1000mm disc. It is also allowing the precision cutting with plasma technology. Approved 3M Robotics System Integrator.