New Factory Digitization solution modernizes factory operations to enable workers to be more effective and efficient and improve practices with actionable insights
Plat4mation today announced Factory Digitization, a new solution built on the ServiceNow Now Platform, to enable manufacturers to improve production efficiencies with mobile workflows that allow operators to manage tasks and consume knowledge on the shop floor. As part of the ServiceNow Partner Industry Solutions marketplace, Factory Digitization provides manufacturing plants with the ability to decrease downtime, increase worker efficiency, and easily implement continuous improvement practices.

Plat4mation's Factory Digitization will combine the company's consultancy services for manufacturing business process optimization with the capabilities of 4Industry, a digital manufacturing operating system (DMOS) aimed at increasing Operational Equipment Effectiveness (OEE) and the ServiceNow Now Platform, equipping organizations with the tools they need to take advantage of all that Industry 4.0 has to offer. Highlights include:
-The DMOS, built on the ServiceNow Now Platform, boosts the employee experience through mobile and paperless workflows, taking factory productivity to the next level.
-The platform, which easily integrates with any existing factory technology systems, supports five key manufacturing processes within its mobile task management interface: Autonomous Maintenance, Planned/Preventative Maintenance, Safety, Health & Environment (SHE) policy adherence, Knowledge Management and Continuous Improvement.
-Data from each of these processes is collected to provide a holistic dashboard view with actionable insights and reporting capabilities.
The solution is available here on the ServiceNow Industry Partner Solutions marketplace. For more information visit www.4industry.com
Featured Product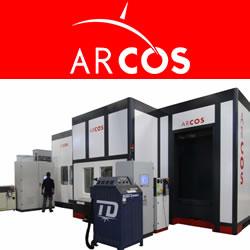 Robotized system for grinding and cutting with discs and the precision cutting with plasma technology of aeronautic parts. This Robotized system is produced for the finishing of aeronautic parts. This machine utilizes the grinding and cutting with a Ø1000mm disc. It is also allowing the precision cutting with plasma technology. Approved 3M Robotics System Integrator.