Electromechanical products drive machinery precision and offer greater flexibility
NEENAH, WI. (Oct. 13, 2020) - Kundinger, a Wisconsin and Michigan-based company delivering fluid power, automation, process control and product solutions to a wide range of industries, announces the launch of a new product line featuring Parker Hannifin Electromechanical and Drives Division products. This partnership expands Kundinger's industrial automation offerings to complement its hydraulic and pneumatic mechanical products.

Electromechanical products are useful for their compact, more accurate features which offer better precision and repeatability for customers. Electromechanical products are also cleaner and quieter than hydraulic and pneumatic products.
"At Kundinger, we bring it all together for our customers and this new product line allows us to take that ever further," Paul Kundinger, president of Kundinger, said. "The new line of electromechanical technologies allows us to deliver full custom solutions and allows us to deliver more options to our customers including hydraulic, pneumatic and now electromechanical products. This partnership solidifies Kundinger as an industrial automation company providing a full spectrum of services above and beyond just fluid power."
"With engineers continually being asked to do more work with fewer resources, it's imperative that their suppliers can solve problems," Ted Hiserodt, national sales manager for Parker Electromechanical and Drives Division, said. "Kundinger doesn't just sell products, they sell the answers and the solutions to problems. Their depth of knowledge and broad technology offerings make them an ideal partner for Parker Electromechanical."
For more information on Kundinger's new Parker electromechanical product line offerings, contact Kundinger at (800) 242-4811 or visit kundinger.com/electromechanical.
Featured Product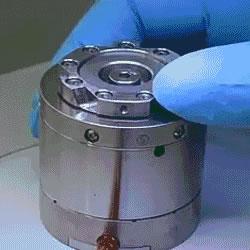 Superior positioning and geometric performance, absolute high-resolution encoders, and a large, ⌀260mm clear aperture makes this air bearing stage a precision instrument for optical alignment, metrology, inspection, calibration, and scanning. Features and advantages include ⌀260mm clear aperture, 77kg load capacity, 0.0015µrad resolution (max.), 500 RPM (max.), flatness/eccentricity of <175/300nm, wobble of < 1 µrad, and direct drive motor. Air-bearings have no rolling or sliding elements and deliver frictionless, non-contact motion, resulting in negligible reversal error, better flatness, and minimal wobble and eccentricity. All these are ideal prerequisites for applications such as inspection and metrology, calibration, and scanning of high-end parts (i.e., infrared and precision optics, turbine blades, shafts and bearings) in industries like aerospace, aircraft, automotive, semiconductors, and photonics.