In the GTS system, pick-and-place and traveling gantry robots provide access to centralized storage of up to 4,000 cutting tools and perform just-in-time tool delivery to individual machines.
[West Chester, OH - September 2020] New releases of the Gantry Tool Storage (GTS) system and Manufacturing Management Software (MMS) from Fastems are designed to significantly increase manufacturing efficiency, enhance ergonomics and improve overall user experience. When applied within a Fastems Flexible Manufacturing System (FMS), the GTS system and MMS can achieve machine utilization levels above 95 percent.

In the GTS system, pick-and-place and traveling gantry robots provide access to centralized storage of up to 4,000 cutting tools and perform just-in-time tool delivery to individual machines. MMS software commands automatic cutting tool changes based on specific NC program scheduling requirements and real-time cutting tool life status.
The GTS system enables cutting tools to be shared among multiple machines, minimizing redundancy and eliminating the need to reserve a cutting tool for a single machine. This generates cutting tool cost savings and minimizes operator interaction with cutting tool changes, reducing labor expense and eliminating tooling loading errors. Cutting tool sharing also permits reduction in the size of machine tool magazines. When implementing the GTS system, its new modular design results in shorter delivery, installation, and commissioning times, as well as hardware cost advantages.
Improvements to MMS software include a more ergonomic interface and improved user experience, faster cutting tool information search functions, improved view of NC programs, and upgraded response in the case of unexpected machine stoppages.
Overall, Fastems' cutting tool management products facilitate cutting tool setups in advance, eliminate scrap and machine crashes due to cutting tool loading errors, enable cutting tool sharing and lights-out machining, and consolidate cutting tool setup activities. Advantages are realized in both initial investment and in ongoing return on investment. Fastems cutting tool automation equipment and software can be installed in phases, with each stage growing in capability and functionality.
Trends toward low-volume, high-mix production scenarios, plus a growing use of difficult to machine materials, has increased the number and variety of cutting tools required to maximize productivity. Fastems LLC has been solving manufacturers' cutting-tool-related productivity challenges since 1997 and has now made available optimal cutting tool management practices into its GTS.
To fully introduce GTS and MMS improvements, Fastems will present a virtual Open House and Conference entitled "Productivity Beyond Machine Tending" on November 4, 2020, providing comprehensive details of the systems' features and capabilities, while giving useful insight on cutting tool management in general. Revealing ways to reduce waiting time, eliminate loading errors, maximize cutting tool safety and manage ergonomic considerations. The program also includes useful presentations and Q&A sessions on how flexible automation and intelligent production planning software can increase efficiency and quality on a shop floor of any size.
Online conference link: fastems.com/event/seminar-productivity-beyond/
For more information, visit www.fastems.com, or call toll-free 866-702-0611.
# # #
About Fastems
Founded in 1901, Fastems delivers intelligent factory automation solutions that help metalworking manufacturers to increase their productivity. Their provisions include consulting services in the field of material handling up to flexible manufacturing systems, robot-based automation solutions, software for production controls well as a comprehensive range of services. The capacity usage of machine tools can be increased with these solutions, and the processes can be optimized. With the help of the intelligent software MMS production and tool management are efficiently planned, forecasted, controlled, visualized and monitored. Due to the openness to different systems and interfaces, the opportunities offered by new technologies, digitalization and integration are consistently implemented in customer-oriented software and hardware solutions. Fastems has its headquarters in Tampere (Finland). With manufacturing facilities in Finland as well as a global sales and service organization, the company employs approximately 450 people.
Featured Product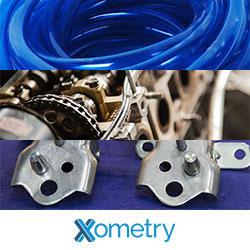 Xometry is your source for custom parts. Now, in addition to getting instant quotes on 3D Printing, CNC Machining, Sheet Metal, and Injection Molding, customers can create and send RFQs for die casting, stamping, and extrusion work to our nationwide network of pre-vetted manufacturers with just a 2D drawing. You will receive and be able to review responses from qualified shops within 7 days on an advanced web-based RFQ management platform. To learn more go directly to our site to issue and RFQ today. Stop wasting time managing RFQs through email and by phone, and start issuing RFQs at scale and in the cloud.