Custom manufacturing leader launches payment card making 30% of job funds immediately available for partner manufacturing shops
GAITHERSBURG, MD (July 8, 2020) - Xometry, the largest global marketplace for custom manufacturing, today announced the launch of the Xometry Advance Card to its network of over 3,000 US-based manufacturing partners.

The card gives American manufacturing facilities in Xometry's network immediate access to 30% of the value of the Xometry jobs they accept up to $7,500 on each job. This provides partners with the opportunity to improve their cash flow, giving shops capital to use to buy materials, tooling, and other expenses needed for business operations.
"At Xometry, we're all about unleashing the capacity of American manufacturing. We want to do everything we can to help the small- and medium-sized American shops in our partner network succeed," said Randy Altschuler, Xometry Co-founder and CEO. "The Xometry Advance Card makes it easier for our partners to buy what they need to keep their shops growing without worrying about cash flow. Over time, we will also be adding opportunities for discounts and benefits on products relevant to manufacturing partners who are cardholders."
The Xometry Advance Card is a Visa payment card that has no fees, interest, bills, credit checks, or impact on the holder's credit rating. The card's spending limit is set automatically based on the work partners take from the Xometry job board. It can be used wherever Visa is accepted and if money on the card is not used, it will simply be returned to partners with the rest of their job payment. Current Xometry partners who sign up for the card this month will receive $100 upon the activation of their card.
The release of the Xometry Advance Card is a part of Xometry's upgraded Shop Finances Partner Portal, which features more frequent, invoice-less payouts that leverages Stripe's payment technology.
Shops interested in joining Xometry's Partner Network can learn more here.
https://www.xometry.com/partner-landing
About Xometry
Xometry is the largest marketplace for custom manufacturing, connecting customers with optimal manufacturing solutions through proprietary AI algorithms. Xometry provides on-demand manufacturing and industrial supply materials to a diverse customer base, ranging from startups to Fortune 100 companies. Our nationwide network of over 4,000 partner manufacturing facilities enables us to maintain consistently fast lead times while offering a broad array of capabilities, including CNC machining, 3D printing, sheet metal fabrication, injection molding, and urethane casting. Xometry's customers include BMW, Dell Technologies, General Electric, Bosch, and NASA.
Featured Product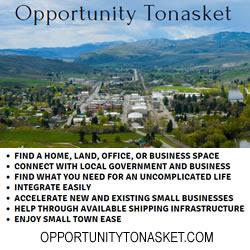 Our primary mission is to promote economic development and growth in the city of Tonasket, WA and surrounding area. This is a group of local citizens sharing a common goal. We wish to assist and promote existing businesses wishing to relocate, local businesses wishing to expand and local individuals wanting to startup a business. Preserving and enhancing the small town and rural lifestyle in a way which benefits everybody and maintains a healthy lifestyle. Opportunity Tonasket was created to be a hub for information and contacts with local city and county agencies, as well as local businesses and real estate connections. Their goal is to connect current and newly relocated individuals and businesses and "plug them in" with the best services, advice and experts in the area. Opportunity Tonasket is like a leg-up, as if one's already had a foothold in the community.