Large volumes, competitive prices and green soul
Gardigiano (VE) June 30th, 2020: Strength, elasticity and eco-compatibility. These are the pluses that characterize the Polyamide 11, better known as PA11, which is now a fully integrated part of Weerg's 3D printable materials with HP Multi Jet Fusion 5210 technology. The revolutionary Italian e-commerce, which offers online CNC machining and 3D printing, confirms its vocation for innovation by industrializing the processing of this support with a green soul, until now used only for small production quantities made with Selective Laser Sintering (SLS) technology.

The only technopolymer obtained from a renewable raw material of vegetable origin such as castor oil, PA11 reduces by over 60% the carbon footprint, that is the climate footprint that measures the amount of greenhouse gas emissions into the atmosphere of a product. In addition, it ensures an excellent reusability ratio of surplus materials in post-production of up to 70%.
"We are one of the first companies in Italy to propose the processing of this material at industrial level with reliable and tested printers such as HP systems, which allow us to produce large volumes at extremely competitive prices", explains Matteo Rigamonti, CEO and founder of Weerg. The Veneto-based company boasts one of the largest installations in Southern Europe of Multi Jet Fusion 5210 industrial 3D printers, capable of reaching volumes of up to 5000 pieces. All 6 HP industrial printers that compose Weerg's industrial fleet will be used to process the classic PA12 and the new PA11, offering customers greater flexibility and faster delivery times.
All with the added bonus of quality. In addition to reducing the environmental impact, the pieces made of PA11 by Weerg with HP 3D printers are aesthetically more detailed than previous technologies that provided a more raw product. In addition, unlike PA12, polyamide 11 provides higher performance in terms of ductility: softer and more elastic, it allows a higher elongation at break and better impact resistance. Extremely stable to light, UV rays and resistant to water and atmospheric agents, this material is usually used for mechanically stressed functional prototypes and components in series with moving parts such as hinges, which are designed to withstand prolonged stress over time.
There are numerous fields of application for nylon PA11: from medical for the production of prosthesis, to aerospace for mechanical parts of drones and other devices, up to sportswear where it is used for components of sporting goods such as snap fasteners, heels, insoles, screws and hinges, and automotive. "We have already received numerous requests from customers operating in this sector, where this material is mainly used for the creation of internal components for pieces designed to absorb shocks in the event of an accident", concludes Rigamonti.
Featured Product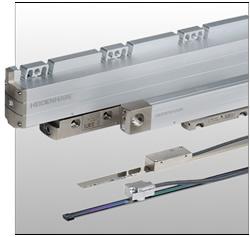 Nothing beats the positioning accuracy of linear encoders from HEIDENHAIN. Available in absolute and incremental versions and ideal for a variety of applications-including machine tools, semiconductor machines and medical machines-these measuring solutions combat a variety of issues that erode precision.