Wilmington introduces newest model of its popular LUMINA Pallateer Series of Plastics Pallet Molding Systems the Model PM-3S.
Wilmington Machinery introduced the company's first LUMINA Pallateer Series molding machine in 2010 because of an increased demand for plastic pallets. Today, Wilmington introduces newest model of its popular LUMINA Pallateer Series of Plastics Pallet Molding Systems the

Model PM-3S.
The Model PM-3S is capable of molding two of the same or two different pallets of sizes "up to 52" X 48" and weighing from 16 - 50 pounds each. Hourly production rates of 48 - 72 pallets per hour are achievable with minimal labor, floor-space and utilities requirements.
The PM-3S like the other LUMINA Pallateer Models is a low-pressure type injection-molding machine with a two-stage injection unit. The Wilmington two-stage unit processes 100% recycled plastics in either pelletized or flake form. It injects at mold fill rates up to 20 pounds per second with velocity and shot size control from Wilmington's unique Versafil sequential injection control system. The result of these features is lightweight and low cost pallets.
A PM-3S System includes the molding machine, molds, robot and all accessories plus know-how and training. It is very versatile with capability to mold nestable, stackable or rackable pallets of both one-piece and two-piece construction from a wide variety of virgin or recycled raw materials including blends.
Wilmington Machinery has built pallet molding machinery, general purpose low and medium pressure injection molding machinery and high capacity extrusion blow molding machinery since its' founding in 1972. From a modern 65,000 square foot facility in Wilmington, North Carolina, the company is well prepared to meet customers' unique needs for large plastics machinery products for the circular economy. International shipments are commonplace and can be arranged via the nearby deep-water Port of Wilmington.
Featured Product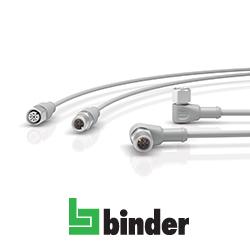 binder USA, LP, has expanded the M12 product family with the addition of the M12 A-Coded Connector, which is now certified for both Ecolab and FDA Code of Federal Regulations (CFR) Title 21 standards. The M12 A-Coded connectors are extraordinarily durable and IP69K-rated, ideal for harsh-duty and washdown applications in the food and beverage, pharmaceutical, and chemical industries. Available in 3, 4, 5, 8, and 12 contacts, the high quality stainless steel locking rings (V4A) and gold contact plating can also withstand UV exposure and shock and vibration.