82% reduction in cycle time achieved with material-specific GEN3SYS XT Pro replaceable insert drill engineered for high-penetration applications.
Allied Machine & Engineering recently worked with a motorsports manufacturer producing ATV suspensions from ductile iron.

"This material is notorious for its high abrasiveness and inconsistent hardness," said a company spokesperson. "The customer's current tooling had to be fed at or under .005 IPR to hold the required 63 Ra µin surface finish. The customer was frustrated with the low penetration rates, so they requested a test demo with the GEN3SYS XT Pro using the K geometry with AM440 coating designed to overcome wear from cast iron material. This coating allowed them to spin the tool faster without losing the cutting edge to wear. The XT Pro was able to increase the penetration rate from 8 IPM to 43.7 IPM (a 446% improvement), all while holding the required 63 Ra µin surface finish."
By increasing the penetration rate, the XT Pro dropped the cycle time from twenty-three seconds to just four seconds, allowing the customer to increase production significantly while maintaining the necessary surface finish.
GEN3SYS XT Pro line of high-penetration drilling products features inserts and holders designed for three specific geometries. "This line also introduces several unique coatings," said the spokesperson. "Combining specific geometries, substrates, and coatings creates the optimal solution for drilling challenging materials, such as the ductile iron mentioned above."
The GEN3SYS XT Pro line is available for steels, cast irons, non-ferrous materials, and most recently, structural steel. The drill inserts are available in diameters ranging from 11 mm to 35 mm. The steel materials geometry (ISO class P) is suitable for low and medium carbon and alloy steels. The ISO class K geometry, according to Allied Machine, is engineered for cast and nodular iron applications, and the blade's geometry includes a corner radius for improved hole finish and heat dispersion. The addition of multi-layer AM440 coating offers increased abrasion resistance and tool life. "The ISO class N geometry excels in softer materials, including aluminum, brass, and copper applications, and yields excellent chip control. Its TiN coating provides the versatility to run in a variety of materials while reducing buildup," said the spokesperson.
Holders for the GEN3SYS XT Pro line feature an enhanced flute design that improves chip evacuation and an updated coolant configuration that increases coolant flow and directs coolant to the cutting zone. The holders are offered in 3xD, 5xD, 7xD, and 10xD depth-to-diameter ratios.
Featured Product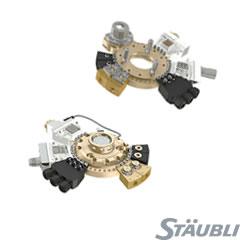 Stäubli is a pioneer in the construction and development of robotic tool changing systems. Our customers benefit from our many years of expertise in all industry sectors, as well as our modular product concept, which offers three efficient solution paths: MPS COMPLETE offers preconfigured robotic tool changers for immediate use. MPS MODULAR allows the user to determine the configuration, while MPS CUSTOMIZED allows the construction of special, application-specific systems.