Ideal for replacing metallic material in a variety of cylinder applications
Walkerton, IN - Polygon Composites Technology, a leading manufacturer of composite tubing solutions for bearings, dielectric applications, surgical devices and more, announces PolySlide® Composite Tubing for pneumatic and hydraulic cylinders. PolySlide tubing replaces metallic material in a variety of cylinder applications.

Supplied as a cylinder tube ready for customer assembly, or as fully engineered cylinder assemblies for equipment manufacturer applications, the tubing is made of continuous filament-wound glass fiber and polymer resins. The fiberglass filament and resin materials combine together to form a high strength component that exhibits dimensional stability, is non-corroding, impingement resistant and is non-conductive. PolySlide is the solution for service in harsh environments. The cylinder tubing performs in high and low temperatures, grease, grit, salt, chemicals and other extreme conditions.
PolySlide cylinder tubing sizes range from as low as 0.25-inch inner diameter (ID) up to industrial-sized 24-inch IDs. The features of the tubing allow the seal to slide over the bore surface contour, minimizing interlocking friction. The inside diameter of the tubing has a smooth finish. Contact with the non-metallic rod guide bearing prevents galling and provides for a low coefficient of friction. A wear resistant material incorporated into the bore surface further increases the lifespan of the composite cylinder tubing.
Commonly found in pneumatic and low pressure hydraulic applications, such as fifth wheel actuation, gate valve actuators, water treatment flow control mechanisms, tie rod cylinders and more, a translucent version of the composite cylinder tubing is also available. For more information visit www.polygoncomposites.com/cylinders.
###
About Polygon Composites Technology:
Polygon Composites Technology works with companies around the globe delivering composite tubing solutions that add value and performance to the heavy equipment, advanced tubing and other markets. With its seven-decade tradition of innovation, Polygon brings an in-depth understanding and extensive experience in the science and performance of composite tubing. As composite experts, Polygon helps organizations make their unique application easier, better and longer lasting. For more information visit www.polygoncomposites.com, call Polygon at 1-800-918-9261 or 547-583-3145, or email sales@polygoncomposites.com
Featured Product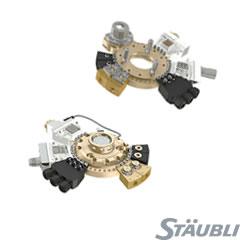 Stäubli is a pioneer in the construction and development of robotic tool changing systems. Our customers benefit from our many years of expertise in all industry sectors, as well as our modular product concept, which offers three efficient solution paths: MPS COMPLETE offers preconfigured robotic tool changers for immediate use. MPS MODULAR allows the user to determine the configuration, while MPS CUSTOMIZED allows the construction of special, application-specific systems.