Molded material sample kits at industries' fingertips at PlasticSampleKits.com
May 9, 2020 — San Jose, California: Mechanical engineers Brian Eastman and Stefan McClelland realized many things since they graduated from the college at which they met and delved into their chosen field. One thing stood out most: they knew for certain that the engineering world needed useful material samples for design and material selection. At PlasticSampleKits.com, that need is ably handled.

Plastic Sample Kits® (patent pending) allows material-to-material comparisons of 20 different types of injection molding plastic, allowing you to make the right material selection for your molded part design. Every injection molding material performs differently in terms of material properties, mold-ability, aesthetics, and post-processing. Standard single part design aids and molding aids don't allow you to discover how one plastic molding material performs compared to another, side-by-side, with the exact same geometry. But Plastic Sample Kits does.
These plastic material samples, each with the material name molded into the part, greatly improve your ability to optimize material selection and part design — all with a hands-on approach.
● Compare glass filled and non-glass filled resins
● Compare common resins and common blends
● Compare stiffness, rib thickness and sink
● Compare colors, textures, and lots more!
The 20 Material Base Kit is available now and the 6 High-Performance Material Kit coming in June, with pre-orders taken now. The kits are just the first two in a long line of collaborations planned for co-founders Eastman and McClelland.
Says Eastman:
We made this product specifically so the engineers and designers can gain valuable experience and intuition about the materials they are expected to design with. I keep one of these kits on my own desk and people are constantly asking to borrow or reference it.
Featured Product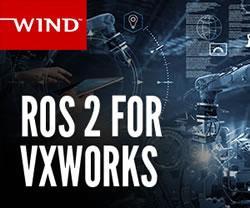 Develop new robotic capabilities with ROS 2 for VxWorks. ROS 2 for VxWorks® project provides custom modifications and build scripts to integrate the Robot Operating System 2 (ROS 2) framework with VxWorks 7. ROS 2 is a set of software libraries and tools that aid in building robot applications. Build ROS 2 for VxWorks using 1) with a VxWorks SDK that is available on the site under a free non-commercial use license; or via 2) with a commercially-licensed VxWorks product.