Factory of the Future - Industry 4.0 Benchmarking Study - by SmarterChains
Hello,

SmarterChains, a software-as-a-service leader in the design and application of Industry 4.0 strategies in manufacturing companies, today publishes a first-of-its-kind benchmarking study into the digital capabilities of companies within the consumer packaged goods (CPG) industry.
As the recent coronavirus (Covid-19) outbreak has highlighted, many manufacturers have limited resilience, with fragile supply chains and often insufficient agility, in particular. More than ever, there is a clear need for digital transformation and Industry 4.0 implementation to cope with unexpected disruptions. By adopting Industry 4.0 technologies, manufacturers can drive throughput delivery, accelerate their bounce back, and level up their capabilities and performance. SmarterChains' study addresses this urgent demand within the CPG industry to prepare, define and execute the transformation efforts. In this way, the study's insights will help leaders' decision making to steer their companies through these turbulent times.
We would kindly like to ask you to publish the attached press release to inform your audience about this important study that can truly help an industry impacted by the course of events.
In case you are interested in further exploring the topic please know we are at your disposal.
Download the full study here to view the content > https://bit.ly/2VUBc0s
Download our Press Release here > https://bit.ly/3dbG3QC
Best regards,
Irini
Head of Marketing
v
Featured Product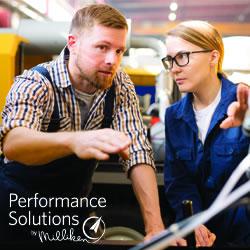 Performance Solutions by Milliken is a dedicated consulting and training group that helps guide businesses toward success. From supply chain, to operations and safety, we're dedicated to developing sustainable results for our clients through the implementation of a holistic operating system. We believe engaging all associates in the process will systematically transform your company to create efficiency, uncover hidden capacity, and generate long-term gains. Are you ready to reinvent your operations and transform your organization? Let's get started.