Updates to the innovative viewer include new VR functionality and enhanced performance that furthers ease-of-use
PARIS - May 6th, 2020 - Pixyz, an innovator in large 3D and CAD data preparation, optimization and review solutions, has released major updates to its Pixyz Review software that further enable users to easily view and interact with 3D models and CAD files, no matter their level of expertise. It's the first and only remote collaboration tool to offer businesses the option to open and manage huge and complex 3D assets on both a desktop device and a virtual reality (VR) headset, reducing training time and costs.

Typically, 3D and CAD files require complex, and often expensive, software to be accessed and viewed. Pixyz Review can handle large and complex files with ease, visualizing a 3D model of any type (mesh, cad or point cloud) or size in an industry-leading range of 50-plus file formats including CATIA, NX, Solidworks and more. Visualization and immersion in virtual reality can be set up in less than ten minutes, and any user can be proficient in the solution within a couple of hours, regardless of their technical prowess. In addition to its virtual collaboration capabilities, Pixyz Review is compatible with most VR headsets, supports metadata & PMI/FTA on 3D models and has useful other features, including cutting plane and measurement capabilities.
Notable new features and updates in the Pixyz Review 2020.1 release include:
• New VR environments and customization options - Users can now import their own VR environments (.hdr) or use new preset themes, including mountains, city square, mall or heaven
• Viewer improvements - Enhancements have made it more performant by up to 40 percent more frames per second (fps), allowing complex and heavy 3D models to be displayed with ease. New HDR lighting makes renderings more realistic
• Less GPU memory usage - Instances are no longer duplicated and only mesh attributes necessary for display (including normals, UVs, binormals and tangents) are transferred
• New guidance options - Users can now import images to provide further context in their scene or create step-by-step written guides or user manuals
• Modernized user interface (UI) - A fresh interface including a new dark mode brings simplicity, visual comfort and ease of use to users, and works better on various screen resolutions and formats
• Additional materials and texture mapping - A new Pixyz Material Library features out-of-the-box materials like wood, leather and steel. It also includes a new materials mapping tool allowing users to perfectly fit the realistic materials.
Pixyz Review is part of the larger Pixyz suite of products, including Pixyz Studio, Pixyz Batch and Pixyz Plugin, that offer industry-leading solutions for large CAD data preparation, optimization and review. The software saves industrial companies and 3D professionals valuable time and effort by allowing them to re-use 3D data in any real-time scenario.
"Our mission has always been to democratize the use of 3D data in a way that delivers an immediate ROI for industrials," said Fabrice BAELI, CEO at Pixyz. "3D data provides businesses with immense value by cutting costs and allowing for the production of more powerful products, and it should not be locked into formats that require technical expertise and costly tools to access. We created Pixyz Review to make it easy for anyone, anywhere, at any time to visualize any type of 3D model at a 1:1 scale, and collaborate and interact with it in VR within minutes - even if they have no prior expertise or technical background."
The new updates are available for current customers to access immediately at no additional charge. For new users, Pixyz Review is available for a one-month free trial. To find out more about how Pixyz Review can help teams of all abilities to view and collaborate on complex CAD files, contact Pixyz today.
About Pixyz
Pixyz was founded in 2017 to unlock valuable 3D and CAD data that many industrials struggled to access due to its complexity and variety of format. The company's innovative suite of solutions can adapt to any industry and remove technical difficulties for users, so that 3D assets can be re-used in any scenario and location, in real-time.
Pixyz is based in France and has an office in Montreal specializing in machine-learning research. The company is partnered with Unity and works with a range of customers across the design, engineering, manufacturing and transportation industries. To learn more about Pixyz's innovative 3D data solutions, visit pixyz-software.com.
Featured Product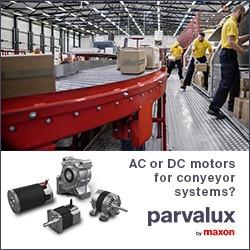 British-made Parvalux geared motors are used in a huge range of industrial applications in almost 80 countries. We manufacture conveyor belt motors, automatic shutter motors, packaging motors and much more. When you need reliable operation, you can trust Parvalux to safely power your application.