(04/20) The technology partnership between Phoenix Contact, Weidmüller, Reichle & De-Massari (R&M), Fluke Networks, and Telegärtner for the Single Pair Ethernet (SPE) has progressed to create the SPE System Alliance. In this group, leading technology companies from various industries and fields of application have come together to bundle their respective SPE expertise and ensure the target-oriented exchange of this knowledge. The partners in this group are pursuing the goal of driving the development of SPE further forward for the Industrial Internet of Things (IIoT) and may branch out to other areas as well. The System Alliance has now also been joined by Datwyler, Kyland, Microchip Technology, Rosenberger, SICK, O-Ring, Draka/Prysmian Group, and University 4 Industry.
Synergies in the SPE System Alliance

The network aims to collaborate on the technological challenges faced when implementing SPE in IIoT applications. The goal of the companies is to accelerate their own development of expertise in SPE technology and to allow it to be implemented faster and more reliably in their products.
Through this orientation toward a cross-industry and cross-application exchange platform, companies from all future SPE ecosystems are coming together. The focus is not, however, on individual aspects such as connection technology. Instead, the focus is on questions and challenges that continue to exist with many market participants in connection with SPE. Rule exchange formats and collaborative project activities provide the freedom for close cooperation. The members are already working together in the first sub-communities, in the fields of connection technology, standardization, SPE use-case reports, and even for cable solutions, among others.
Thanks to its broad lineup, the SPE System Alliance already covers a large range of applications and fields of application:
SPE in the automotive field - impetus from the automotive industry
Ethernet systems are being installed increasingly in the vehicle generations of today. Through the networking of control devices and sensors, further innovations in the fields of driver assistance systems such as LiDAR, high-resolution displays, autonomous driving, 4K cameras, and infotainment can be realized.
The development of the automobile Ethernet has led to the creation of two IEEE standards: 100BASE-T1 (100 Mbps based on BroadR-Reach technology) and 1000BASE-T1 (1 Gbps). Limit values for the connectors and cables and the associated measurement methods were defined from the demands on the overall channel. The partner company Rosenberger played a leading role in the standardization in both standard committees in the fields of automotive connector design, signal integrity, and EMC.
SPE for building automation
The Internet of Things (IoT) allows smart buildings and factories to become a reality more easily and cost-effectively. With this IP protocol, LED lamps, switches, sensors, thermostats, machine control systems, and motors for window blinds are connected via the local data network and the cloud to the building management system. Application-specific fieldbus systems are no longer needed, meaning that gateways, complex interfaces, and different protocols are not necessary either. With the structured ceiling cabling (the Digital Ceiling), intelligent building automation can be combined via IP seamlessly. This simplifies installation, maintenance, and network management. In most cases, high data rates are not needed, but a high connection density is. SPE is considered an ideal addition for the Digital Ceiling. The existing cabling infrastructure can easily be expanded with SPE for higher port density. Both, R&M and Telegärtner provide Digital Ceiling solutions and can show the implementation of SPE into such a system.
SPE in the passive industrial cabling field of connectivity
SPE provides consistent IP communication from the field level right through to the corporate level, and therefore from the sensor through to the cloud. As an alternative to today's fieldbus systems, this technology will revolutionize industrial data transmission. Standardized pin connector patterns form the basis for the barrier-free networking of a wide range of components and devices. Phoenix Contact, Weidmüller, R&M, Rosenberger, and Telegärtner develop compact device and cable connectors in accordance with the standardized and fully compatible interfaces in accordance with IEC 63171-2 (IP20) and 63171-5 (IP67). The pin connector pattern can be integrated into all conventional and standardized connector versions (M8/M12) and enables efficient and future-proof cabling thanks to the high packing density and low space requirements.
SPE in sensor technology
Now, in addition to their use in classic automation technology, sensors are increasingly being integrated as intelligent data suppliers into IIoT applications via Ethernet networks. Due to the miniaturization of the connection technology that has become possible with SPE, smaller and spatially limited sensors can also be connected to Ethernet networks.
An additional advantage is yielded by combining SPE with the power supply over the data line. This means that additional plug connections to the voltage supply are no longer needed. Moreover, the use of SPE as the standard interface allows device manufacturers to provide an optimized range of devices with fewer versions. Sensors in a machine or system can be cabled more easily and reduce the installation work for the user.
SPE cables and lines
In SPE fields of application, the transmission channels are created from various cables and a varying number of plug connections. While the transmission channels are specified through transmission parameters such as bandwidth, attenuation, return loss, and shielding dimensions in the system standards (e.g., the ISO/IEC 11801 series of standards), the connectors and cables must then be tailored to the respective channel.
The work being performed in the IEC46C committee is taking the lead here. Cables with a 20 MHz bandwidth for fixed routing, connecting cables suitable for the 10BaseT1 channels, and cables with a bandwidth of 600 MHz for 100BaseT1 and 1000BaseT1 are available (IEC 61156-11 series of standards and those following).
Along with the transmission of signals, the advantage lies in the simultaneous transmission of power along the single-pair cable, for example from the switch to the sensor. Known as PoE in the field of building cabling, the single-pair cable is called PoDL (Power over Data Line) here. Coordinated with the cross-sections and channel length, powers of up to approx. 15 W can then be transmitted.
The different ambient conditions in industry and in building technology result in requirements on the mechanical, chemical, thermal, fire-related, and even electromagnetic resistance aspects. The system partners contributing their experience in this field are Datwyler and the Draka Prysmian Group.
Online education for SPE
Ethernet in general and SPE in particular play a central role in the establishment of the Industrial Internet of Things. Often, however, the need for further training of employees is not considered when introducing such technologies. This is where University4Industry helps with online learning content from various areas of IIoT, e.g. on the topic of Ethernet APL.
The SPE System Alliance is an open platform for companies that want to further advance SPE technology on the market. Details and options for contacting the System Alliance are available on the website www.singlepairethernet.com.
About Phoenix Contact
Phoenix Contact is a worldwide market leader for components, systems, and solutions in the fields of electrical engineering, electronics, and automation. Today, the family-owned company employs around 17,400 people worldwide, with sales of € 2.38 billion in 2018. The company headquarters are in Blomberg, Germany. The Phoenix Contact Group includes 14 Germany-based companies along with more than 55 group sales subsidiaries throughout the globe. The international presence is further strengthened by more than 40 subsidiaries in Europe and abroad. www.phoenixcontact.com
About Weidmüller
As experienced experts, we support our customers and partners around the world with products, solutions, and services in the industrial energy, signaling, and data sectors. We are right at home in their industries and markets and understand the technological challenges of tomorrow. This allows us to keep developing innovative, sustainable, and value-added solutions for their individual needs. Together, we set the standards in industrial connectivity. The Weidmüller group has production facilities, distributors, and representatives in more than 80 countries. In the fiscal year 2017, Weidmüller had sales of 740 million euros and employed around 4,700 individuals. www.weidmueller.de
About R&M
Reichle & De-Massari (R&M) has over 56 years of experience in the information and communications technology (ICT) market. R&M develops and manufactures connectivity solutions for high-value communications networks in office buildings, computing centers, for network operators, and for both residential and industrial applications. R&M is represented by its own marketing organizations in over 40 countries on all continents. Company sales amounted to CHF 276.7 million in 2019. R&M is among the 500 largest companies in Switzerland and employs 1,300 people. The company is wholly owned by the Reichle family. www.rdm.com
About Telegärtner
Telegärtner, founded in 1945, is a globally operating full-service provider for professional solutions in connection and transmission technology, and is one of the leading manufacturers in this field. The family-owned company has been focusing on demanding applications in building, IT, and network technology for decades. For a little more than two decades, Telegärtner has been providing exceptionally robust connection technology for industrial network applications with high bandwidth requirements.
Complete customer orientation and uninterrupted innovative strength: Based on these ideals, the globally operating Telegärtner group develops, produces and markets professional and tailor-made solutions.
https://www.telegaertner.com/
About Rosenberger
Rosenberger Hochfrequenztechnik GmbH & Co. KG - a medium-sized, family-owned industrial company - was founded in 1958 and is now one of the world's leading manufacturers of standardized and customer-specific connection solutions in the fields of high-frequency, high-voltage, and fiber optic technology. Rosenberger is certified in accordance with IATF 16949:2016, DIN EN 9100, ISO 9001, and ISO 14001.
Today, more than 2,300 employees work in our main factory in Fridolfing/Tittmoning (Upper Bavaria, Germany). Within the Rosenberger Group, more than 11,300 employees in our main factory, the manufacturing and assembly facilities, and the Rosenberger sales offices in Europe, Asia, and North and South America work on the development, manufacture, and sales of our products. www.rosenberger.com
About SICK
SICK is one of the world's leading manufacturers of sensors and sensor solutions for industrial applications. The company, founded in 1946 by Dr.-Ing. e. h. Erwin Sick and with its headquarters in Waldkirch, Germany, close to Freiburg im Breisgau, is one of the technology and market leaders and, with more than 50 subsidiaries and co-operations, as well as a large number of representatives, has a global presence. In the 2018 financial year, SICK employed almost 10,000 people throughout the work and achieved group sales of around € 1.6 billion. You will find further information on SICK on the Internet at http://www.sick.com.
About Microchip Technology
Microchip Technology Inc. is a leading provider of smart, connected, and secure embedded control solutions. Its easy-to-use development tools and comprehensive product portfolio allow customers to create optimal designs, which reduce risk while lowering total system cost and time to market. The company's solutions serve more than 120,000 customers across the industrial, automotive, consumer, aerospace and defense, communications, and computing markets. Headquartered in Chandler, Arizona, Microchip Technology offers outstanding technical support along with dependable delivery and quality. For more information, visit the Microchip Technology website at www.microchip.com.
About Draka / Prysmian Group
The Prysmian Group is the world's market leader in the field of energy and telecommunication cables and systems. With more than 140 years of experience, sales of more than € 11 billion, and around 29,000 employees in more than 50 countries and 106 operating facilities, the group is strongly positioned in high-tech markets. It provides a very extensive range of products, services, technology, and expertise.
The Multimedia Solutions business unit within the Prysmian Group works on everything that has to do with cables for private communication networks. The product portfolio of fiberglass, coaxial, and copper data cables covers the various fields of application for building cabling, TV and film studios, long-distance communication for rail networks and tunnels, and communication systems in cellular networks. Industry 4.0, IoT, and 5G cellular networks demand new cable solutions, and Single Pair Ethernet is one of the key elements.
In accordance with our maxim - Innovative cables for communication networks:
Let's connect with DRAKA cables. www.prysmiangroup.com
University4Industry
University4Industry is a leading provider of online education for industrial digitization, IIoT and Industry 4.0 topics, with a focus on continuing education for various employees from industry. University4Industry offers a solution in which learning goals and content are aligned and tailored to the target groups in the company. We use our own content from the subject areas of Industrial-IoT & Connectivity, Machine Learning, Software Engineering, Industrial Security, Additive Manufacturing, Blockchain and, if required, supplement this with company-specific content. Learn more at www.u4i.io
About Datwyler Cabling Solutions
Successful digitalization starts with Datwyler's pioneering IT infrastructure. Datwyler Cabling Solutions enables organizations around the world to run their IT infrastructures seamlessly and scale their business with ease. The well-established company has successfully acted as a supplier of innovative system solutions and products for data centres, fibre networks and smart buildings as well as the lead or main contractor who, working in close cooperation with local partners, covers the whole value chain in these markets: from site surveys, design and system engineering through installation and logistics to documentation and system maintenance. The basis for this is the company's competence in product and solution design, its operating experience, its international presence and its globally established partner network. Datwyler Cabling Solutions was founded more than 100 years ago and employs some 1000 people. www.cabling.datwyler.com
Featured Product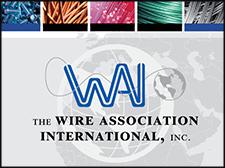 The Wire Association International (WAI), Inc., founded in 1930, is a worldwide technical society for wire and cable industry professionals. Based in Madison, Connecticut, USA, WAI collects and shares technical, manufacturing, and general business information to the ferrous, nonferrous, electrical, fiber optic, and fastener segments of the wire and cable industry. WAI hosts trade expositions, technical conferences, and educational programs.