Visit Booth #S82555 to see products for challenging construction equipment applications
Walkerton, IN - Polygon Company, a leading producer of composite tubing, bearings, and pneumatic cylinders, announces will be highlighting its line of high-performance composite plain bearings at CONEXPO-CON/AGG 2020 on March 10-14, 2020, in Las Vegas, Nevada, South Hall 3, Booth #S82555. Polygon will also showcase its PolySlide® composite tubing for pneumatic and hydraulic cylinders.

The high-performance custom-engineered and standard composite plain bearings on display are ideal for challenging construction equipment applications, including wheel loaders, excavators, back hoes, and compact track loaders, as well as other applications requiring pivot joints with a long life-expectancy. Featuring high load-bearing capacity, low frictional values, and corrosion resistance, the Polygon composite bearings are self-lubricated, requiring no greasing. This reduces maintenance labor costs and increases the interval before maintenance is required on rental equipment. It can also lower the number of greasing locations, ultimately resulting in fewer equipment warranty claims.
Also on display will be PolySlide composite tubing for pneumatic and low-pressure hydraulic applications, including fifth wheel actuation, gate valve actuators, water treatment flow control mechanisms, and tie rod cylinders. PolySlide tubing replaces metallic material in a variety of cylinder applications. Supplied as a cylinder tube ready for customer assembly, or as fully engineered cylinder assemblies for equipment manufacturer applications, the tubing is made of continuous filament-wound glass fiber and polymer resins. The fiberglass filament and resin materials combine together to form a high strength component that exhibits dimensional stability, is non-corroding, impingement resistant and is non-conductive. PolySlide is the solution for service in harsh environments. The cylinder tubing performs in high and low temperatures, grease, grit, salt, chemicals and other extreme conditions.
For more information visit www.polygoncomposites.com.
###
About Polygon Company:
Polygon works with companies around the globe delivering composite tubing solutions that add value and performance to the heavy equipment, advanced tubing and other markets. With its seven-decade tradition of innovation, Polygon brings an in-depth understanding and extensive experience in the science and performance of composite tubing. As composite experts, Polygon helps organizations make their unique application easier, better and longer lasting. For more information visit www.polygoncomposites.com, call Polygon at 1-800-918-9261 or 547-583-3145, or email sales@polygoncomposites.com
Featured Product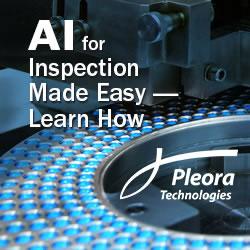 Pleora's AI Gateway provides a hybrid approach that allows system designers, integrators, and end-users to add more advanced AI capabilities alongside existing sensor sources and classic computer vision algorithms.