Baltimore Aircoil Company (BAC) will showcase the Nexus™ Modular Hybrid Cooler at the AHR Expo
Baltimore, MD - Baltimore Aircoil Company (BAC) will showcase the Nexus™ Modular Hybrid Cooler at the AHR Expo, to be held February 3-5, 2020 at the Orange County Convention Center, Orlando, Florida, Booth 2321. Also to be highlighted will be the TrilliumSeries™ Adiabatic Condenser, HXV Hybrid Cooler, and the Series 3000 Cooling Tower, which will be shown with the ENDURADRIVE™ fan system.

With its vision of Reinventing Cooling to Sustain the World, BAC's product offerings meet its mission: To continually advance truly sustainable cooling — inspired by nature, powered by our people — for a world that depends on it to grow, succeed, and thrive. Everything we do at BAC, from the smallest improvements to the greatest leaps in innovation, serves this core purpose.
The Nexus Modular Hybrid Cooler to be showcased is the world's first intelligent, plug-and-play, modular, hybrid fluid cooling system. A finalist in the Cooling category of the 2020 AHR Innovation Awards, the Nexus has been engineered to simplify system design and optimize water and energy savings and provides the lowest installation, operating, and maintenance costs. Compared to traditional fluid coolers, the units are up to 8 feet shorter, have a 40 percent smaller footprint and are 35 percent lighter.
Also on display is the TrilliumSeries Adiabatic Condenser, which combines the best of wet and dry cooling and optimizes energy and water savings. With the most worldwide installations, the TrilliumSeries now includes models up to 215 nominal tons to accommodate a wide variety of industrial and commercial applications. It offers up to 44 percent energy savings compared to a traditional air-cooled condenser. The TrilliumSeries was recognized with an honorable mention in the 2016 AHR Expo Innovation Awards in the refrigeration category.
Visitors to the booth can also learn about the HXV Hybrid Cooler, a finalist in the Green Building category of the 2020 AHR Innovation Awards. The HXV offers the best of both evaporative and dry cooling in a water saving and energy-efficient solution. Perfect for data centers, industrial, manufacturing, and HVAC, the HXV is up to 60 percent more energy-efficient than air-cooled systems and offers up to 70 percent water savings compared to traditional fluid coolers.
The Series 3000 Cooling Tower to be featured offers capacities from 171 to 1,446 nominal tons in a single cell with up to 4,500 USGPM for process applications. Multiple cell units are also available. It will be shown integrated with the ENDURADRIVE fan system, the only variable speed direct drive solution for modular evaporative cooling equipment. ENDURADRIVE provides a 10 percent reduction in energy costs and a 90 percent reduction in maintenance costs compared to a gear drive system.
For more information about Baltimore Aircoil Company, visit www.BaltimoreAircoil.com.
Featured Product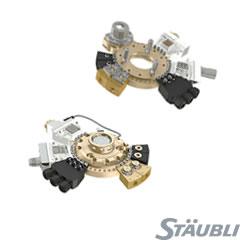 TX2 robots: redefining performance by offering collaborative safety and high performance in a single machine. These pioneering robots can be used in all areas, including sensitive and restrictive environments, thanks to their unique features. Safety functions are easy and inexpensive to implement. They allow a higher level of interactions between robots and human operators, while still guaranteeing protection of your people, production and investment.