In recent years, governments have introduced policy and legislation that encourages minimum efficiency standards for all types of electrical products. Here, Steve Hughes, managing director of power quality specialist REO UK, explains how design and electrical engineers can reduce a product's costs and carbon footprint, while also complying with energy standards, by considering something as simple as the humble toroidal transformer.
Global energy demand rose just over two per cent in 2017. This was the fastest rise in energy usage this decade, which analysts have explained as being driven by economic growth and changes in consumer behaviour. In addition to the increasing awareness of the harmful environmental impact that carbon emissions have, it should be no surprise that energy efficiency has become a major focus for today's markets.

In particular, more attention is being given to the energy efficiency of electrical equipment, with lighting and computer equipment being the most prominent examples. This focus has been supported by numerous research findings, such as a study recently conducted by The Carbon Trust. This research found that leaving a computer on overnight for a year can create enough carbon dioxide to fill a double-decker bus.
In recent years, some governments have been reluctant to take proactive steps to improve energy efficiency. In fact, the International Energy Agency (IEA) has claimed that "today's policies are not delivering the full potential gains that are cost-effective and use current technology. This delayed action on energy efficiency ends up locking in inefficiencies that mean much stronger action needs to be taken in the future."
Improving efficiency should not be limited to the product itself, but also the processes that went into designing, producing and transporting it. At REO UK, we are urging original equipment manufacturers (OEMs), as well as electrical and design engineers, to consider where and who they are sourcing components from, and the environmental impact of that procurement.
For example, working with a local manufacturer rather than a distributor can minimise emissions caused because of the air miles used to transport the product to you. When looking at efficiency, logistical elements like this are often overlooked. With divisions all over the world and operating as a direct manufacturer, at REO UK we design and manufacture our components according to EN ISO 9001, with each product also individually tested to ensure overall compliance and quality.
For mains powered devices and equipment, engineers should consider integrating high quality toroidal transformers into their designs rather than standard EI transformers or poorer performing toroidal transformers.
Toroidal transformers are passive electronic components that consist of a circular ring or donut-shaped magnetic core made from laminated iron, upon which wire is then wound around. Toroidal transformers are generally more compact than traditional EI types, because they are made of fewer components and are more efficient. In turn, this typically results in the transformer being anything from 20 to 50 per cent lighter than a standard transformer.
When assessed against conventional transformers, the advantages can be easily seen, toroidal are more compact and undoubtedly more efficient.
More notably, REO UK recently conducted a series of internal laboratory tests to see how its series of open toroidal transformers measure against two other leading toroidal transformer manufacturers. These comparisons between REO and other toroidal manufacturers show a 2-3 per cent energy saving in REO's favour and a significant temperature reduction. This means that the transformers are likely to continue working for considerably longer whilst consuming less electricity, either ON or OFF load.
The focus on improving energy efficiency to achieve a 20 per cent reduction in carbon emissions by 2020 means that many engineers should re-evaluate their equipment and components in regard to all of the factors involved and not simply the Bill of Materials (BOM) cost.
For REO UK, seeing how our range of open toroidal transformers ranks against other brands on the markets reaffirms our position as a company that develops and produces products that offers increased component efficiency.
Featured Product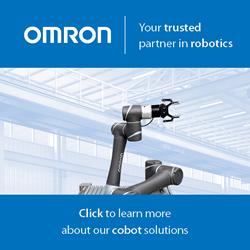 Humans and robots can now share tasks - and this new partnership is on the verge of revolutionizing the production line. Today's drivers like data-driven services, decreasing product lifetimes and the need for product differentiation are putting flexibility paramount, and no technology is better suited to meet these needs than the Omron TM Series Collaborative Robot. With force feedback, collision detection technology and an intuitive, hand-guided teaching mechanism, the TM Series cobot is designed to work in immediate proximity to a human worker and is easier than ever to train on new tasks.