Traceability is focus of presentation at annual industry event.
AIM Computer Solutions, a provider of enterprise ERP technology solutions and business process improvement consulting to discrete and repetitive manufacturers, announced today that Director of Consulting Jeff Sawka will present at FABTECH 2019 on best practices for full traceability of material, workcenter, operator and parts while keeping production container movement to a minimum.

Visit the AIM Computer Solutions booth at D45131 in Hall D for more information about its EDI and ERP solutions optimized for automotive suppliers.
FABTECH is North America's largest metal forming, fabricating, welding and finishing event. Held annually since 1981, it welcomes more than 65,000 visitors from more than 90 countries. Cosponsors include The Fabricators & Manufacturers Association, Int'l (FMA), SME, The American Welding Society (AWS), Precision Metalforming Association (PMA) and the Chemical Coaters Association International (CCAI).
The FABTECH 2019 conference takes place from Nov. 11-14 at McCormick Place in Chicago, Ill. For additional information or to register to attend, go HERE.
Jeff's presentation - How to Keep Full Traceability of Parts (Material, Workcenter and Operator) While Minimizing Hi Lo Moves (Container Movement) - will take place on Monday, Nov. 11 from 12:00-1:30 p.m. in room S502A at McCormick Place.
"Full traceability of parts is a complicated but essential requirement for manufacturers," said AIM Computer Solutions Director of Consulting Jeff Sawka. "I will present information that details how manufacturers leverage technology to scan Bill of Material (BOM) usage, backflushing, re-labelling and other nuances of ensuring traceability. An effective traceability regimen can limit costly recalls and enable manufacturers to rapidly respond to product recalls when necessary."
About AIM Computer Solutions
AIM Computer Solutions, Inc., provides business software solutions for automotive manufacturers to meet specific ERP needs. The AIM Vision® solution, designed for small to mid-size repetitive automotive suppliers, provides customizable support from the shop floor to the front office. AIM is an Epicor Silver Partner and provides Epicor ERP solutions and implementation assistance for project-based manufacturing, including AutoCOR, an ERP solution for mid-size to large automotive suppliers running Epicor v10. For the latest news and updates, connect with AIM on LinkedIn and Facebook and follow @aimcomERPnews on Twitter. For more information, go to http://www.aimcom.com.
Featured Product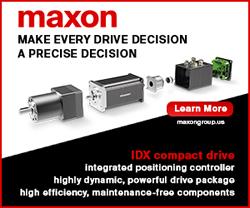 maxon motor launches new high-speed motors that are configurable online. The new ECX brushless motors are quiet and feature very high efficiency. The ECX motors are available with diameters of 8, 16 and 19 mm achieving speeds of up to 120,000 rpm. They run very smoothly and are highly efficient. With maxon motor's online configurator, it is easy to put together a customized DC motor to include gearhead, encoder and controller. The customized motors are ready to ship in 11 days!