Xometry launches the Xometry Finishing Service, a streamlined way to get post-processing for custom manufactured parts.
Xometry, the largest online marketplace for custom manufacturing, today announces the launch of the Xometry Finishing Service, an online platform where customers can source post-processing work for custom parts that have already been manufactured.

The Xometry Finishing Service allows customers to seamlessly send RFQs to Xometry's highly-vetted, post-processing manufacturing partners, receive and evaluate quotes, and manage orders in one convenient location. Customers can also invite their approved vendors to join the network to help streamline the process further. The finishing network offers competitive pricing and speeds up the supplier selection process.
"Our vision is a Finishing Service that can serve the needs of our partners, and customers, with cost-competitive, high-quality, finishing services," said Carlton Edmonds, lead partner manager for the Finishing Service at Xometry.
Customers can receive quotes from world-class suppliers on a range of finishing services including:
● Type II Anodizing
● Type III Anodizing
● Chem Film
● Heat Treatment
● Conversion & Pretreatments
● Mechanical Finishing
● Adhesives & Coatings
● Metal Plating
● Painting & Marking
● Military Spec Coatings
In addition to post-processing services, Xometry offers custom manufacturing in 11 processes including CNC machining, sheet metal fabrication, injection molding, and seven additive manufacturing processes through a network of over 3,000 manufacturing partners. Xometry also sells materials and tooling through its Xometry Supplies eCommerce storefront.
About Xometry
Xometry is the largest marketplace for custom manufacturing, connecting customers with optimal manufacturing solutions through proprietary AI algorithms. Xometry provides on-demand manufacturing, post-processing services, and industrial supply materials to a diverse customer base, ranging from startups to Fortune 100 companies. Our nationwide network of over 3,000 partner manufacturing facilities enables us to maintain consistently fast lead times while offering a broad array of capabilities, including CNC Machining, 3D Printing, Sheet Metal Fabrication, Injection Molding, Die Casting, Stamping, Extrusion, and Urethane Casting. Xometry's customers include BMW, Dell Technologies, General Electric, and NASA.
Featured Product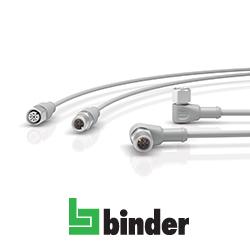 binder USA, LP, has expanded the M12 product family with the addition of the M12 A-Coded Connector, which is now certified for both Ecolab and FDA Code of Federal Regulations (CFR) Title 21 standards. The M12 A-Coded connectors are extraordinarily durable and IP69K-rated, ideal for harsh-duty and washdown applications in the food and beverage, pharmaceutical, and chemical industries. Available in 3, 4, 5, 8, and 12 contacts, the high quality stainless steel locking rings (V4A) and gold contact plating can also withstand UV exposure and shock and vibration.