Pro-Met is a line of flexible industrial cable highly resistant to oils and resistant to UV damage
Heilind Electronics, a leading global distributor of electronic components and authorized distributor for Alpha Wire, is now stocking the manufacturer's Pro-Met industrial cable. Pro-Met is a line of flexible industrial cable highly resistant to both oils and resistant to UV damage.

Standard features include two to twelve conductors, grey or transparent jacketing options, and unshielded or tinned copper braid shielding with a 300/500 voltage rating. In addition, customers can select from 50, 100 and 300 meter lengths. This multitude of options makes Pro-Met a flexible solution for industrial automation systems.
Alpha Wire's Pro-Met cable is designed to provide consistent reliability, resulting in more uptime, fewer errors and precise operation of equipment. In addition, Pro-Met's round construction makes it easier to install, seal and route.
Pro-Met cable is ideal for a wide range of applications, including automotive, industrial automation, aerospace and defense, commercial electronics, medical devices and food and beverage.
Visit Heilind's website for more information about Alpha Wire's Pro-Met industrial cable.
About Heilind Electronics
Heilind Electronics, Inc. (http://www.heilind.com) is one of the world's leading distributors of connectors, relays, sensors, switches, thermal management and circuit protection products, terminal blocks, wire and cable, wiring accessories and insulation and identification products. Founded in 1974, Heilind has locations throughout the U.S., Canada, Mexico, Brazil, Germany, Singapore, Hong Kong and China. Follow Heilind on Facebook at facebook.com/Heilind and on Twitter at twitter.com/Heilind.
About Alpha Wire
Alpha Wire designs and manufactures industry-leading wire, cable and tubing products for factory automation, packaging, automotive, alternative energy, medical, semiconductor fabrication and other technically advanced applications.
Featured Product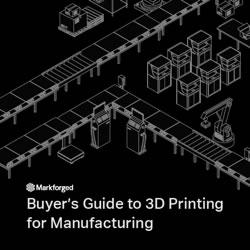 3D printing has become a powerful force in today's manufacturing industry from prototyping to tooling and fixtures to custom, end-use parts. Many businesses struggle to find the right solutions to fit their needs and provide ROI. Selecting the right platform to prevent manufacturing roadblocks is vital to optimizing your manufacturing line productivity. Download the all new buyer's guide to help you evaluate the benefits of 3D printing and dispel misconceptions, understand the pros/cons of various 3D printing processes and materials, and assess the key considerations in selecting a 3D printer.