Multi-screen separator replaces manual sieve used in the separation stage of black soldier fly production
Traditional means of sourcing protein to feed animals is a farming process that has a huge detrimental impact on the environment, with problems including overfishing and biodiversity loss. Keiran Whitaker, founder of Entocycle, sought to address this issue through combining a natural process with pioneering technology to produce sustainable protein at scale anywhere in the world. Founded in 2014, with production expanding exponentially in 2016, Entocycle breeds and harvests the Black Soldier Fly, whose larvae are fed on organic waste to convert it into high-protein body mass. These larvae, and the waste they produce (known as frass), can then be utilized for a variety of different applications. The larvae - the main focus of Entocycle's process - are harvested to be used as a source of protein to feed animals in the agricultural industry, whilst the oil and frass produced are used respectively in biofuels, and as fertilizer.

Entocycle originally used a manual process to sieve the larvae, but since this proved to be both labor and time intensive, sought another more efficient method that would effectively scale up to cope with demand at its new pilot plant in London Bridge. Following a recommendation from other companies who had utilized the Russell Eco Separator® for similar uses, Russell Finex provided Entocycle with an innovative sieving solution, allowing it to exponentially increase its product throughput to 1.39 tonnes per hour, with a mean sieve time of around 177 minutes to harvest the protein. With the installation of the Russell Eco Separator®, this entire process from larvae to packaged feed takes 12 days. The length of time taken for this process is incredibly quick, in comparison to other more traditional methods, such as growing soy plants, or fishmeal.
Chief Technology Officer Matthew Simmonds, who oversaw the building of Entocycle's new pilot test facility, says, "We were looking for a compact machine, and being circular rather than linear, enabled the Russell Eco Separator to fit perfectly into our production line. Russell Finex is local to us, therefore making it even easier to arrange tests at their specialized test facility as well as our own site."
Overall, the Russell Eco Separator® offers businesses a cost-effective, reliable solution across a variety of different industries. Not only is it incredibly versatile, suitable for wet or dry applications, but, with up to four screens to enable separation into 5 fractions in one go, is able to increase the output of product and efficiently separate waste.
Find the full case study at: https://www.russellfinex.com/en/case-studies/black-soldier-fly-larvae-sieving-solution/
Established in 1934, Russell Finex has 85 years of experience supplying leading manufacturers with screening technology. Contact Russell Finex today to discover how technology such as this could optimise your production process at www.russellfinex.com
Featured Product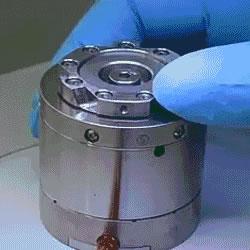 Superior positioning and geometric performance, absolute high-resolution encoders, and a large, -260mm clear aperture makes this air bearing stage a precision instrument for optical alignment, metrology, inspection, calibration, and scanning. Features and advantages include: •260mm clear aperture • 77kg load capacity • 0.0015µrad max. resolution • 500 RPM max. • latness/Eccentricity: <175/300nm • Wobble: < 1 µrad • Direct drive motor. Air-bearings have no rolling or sliding elements and deliver frictionless, non-contact motion, resulting in negligible reversal error, better flatness, and minimal wobble and eccentricity. All these are ideal prerequisites for applications such as inspection and metrology, calibration, and scanning of high-end parts (i.e., infrared and precision optics, turbine blades, shafts and bearings) in industries like aerospace, aircraft, automotive, semiconductors, and photonics.