From Liquid Resin to Solid Products – Without Using a Mold
Gurnee, IL Gallagher Corporation is now 3D printing polyurethane using Digital Light Synthesis™ (DLS) technology by Carbon®. This technology adds to Gallagher's existing capabilities in polyurethane molding - cast molding and injection molding.

Gallagher Corporation's newly added technology allows them to make complex product geometries that would have been costly, time consuming, or impossible using traditional molding processes. 3D printing excels at making complex undercuts, internal channels, surface textures, lattices, and features like text, logos, holes, or threads.
This new technology reduces cost by eliminating production steps and consolidating multipart assemblies into single components.
The 3D printed products are tough and strong. Unlike other printing methods, DLS printed products have isotropic mechanical properties. The materials perform similarly to common options like silicone, polyurethane, polypropylene, acrylonitrile butadiene styrene (ABS), and glass-filled nylon. Hardnesses range from 35 Shore A to 90 Shore D.
DLS technology is pushing 3D printing beyond prototyping and into production for several reasons. DLS-printed parts have performance and quality comparable to traditional manufacturing processes. Without the need for tooling, short lead times and quick design changes are possible. DLS can compete cost-wise with traditional production methods.
For technical data and for more information on Gallagher's capabilities, go to GallagherCorp.com.
Gallagher Corporation is a manufacturer of custom polyurethane products. In addition to 3D printing, the company cast molds and injection molds. Located in Gurnee, IL, Gallagher has been family-owned since its founding in 1965. The company is ISO 9001 and ISO 14001 certified, and is in the OSHA Safety & Health Achievement Recognition Program (SHARP).
Featured Product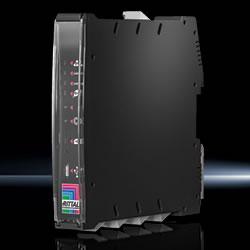 Rittal Blue e+ cooling units are currently the most efficient of their kind on the market. Besides being 75 percent more energy-efficient than previous cooling solutions on average, the units also excel in terms of connectivity, safety and handling.   What's more, their IoT interface enables Blue e+ units to link to customer-owned monitoring, energy management and/or superordinate systems via OPC-UA, Profinet, SNMP, Modbus TCP and CANopen, enabling predictive maintenance, data analytics and more.