Manufacturer of food additives uses industrial liquid-solid separator for improved output rate
Italian multinational company, Silvateam S.p.A., is a producer of natural plant-based extracts and produces pectin at its new factory in Rende, Italy. Silvateam employs a unique manufacturing process. The pectin is extracted from fresh citrus peel using hydrolysis. The resulting mash is filtered to separate protopectin - a liquid solid - from the peel residue. The syrup then goes through a secondary filtration process which refines the pectin before it is dried and blended.

Filtration is critical to Silvateam's production process. It can be difficult to separate liquid from solids and Silvateam recognized that the existing static sieve, used in its secondary filtration process, allowed some pectin to go to waste. Improving filtration would enable Silvateam to increase its production yield. Silvateam conducted a review of liquid-solid separation technology and the Russell Liquid Solid Separator, a centrifugal separator designed for separating liquids from solids, was identified as the go-to solution.
The multipurpose centrifugal separator, which is capable of filtering soft and fibrous oversized solids, was easily adapted to Silvateam's production process and to establish the optimal operating conditions, the Russell Liquid Solid Separator was tested with a variety of mesh sizes at different stages in the production process.
Optimizing the filtration process had a measurable effect on production. The Russell Liquid Solid Separator's centrifugal action allowed the pectin producer to achieve high-capacity separation of liquid solids as fine as 20 μm (0.02mm), significantly reducing the volume of good product that was going to waste.
Full case study at: https://www.russellfinex.com/en/case-studies/processing-pectin-with-centrifugal-separators/
Russell Finex has 85 years' experience serving a variety of industries with sieving and filtration solutions. Contact the company for more information about how it can cater to your specific requirements at www.russellfinex.com
Featured Product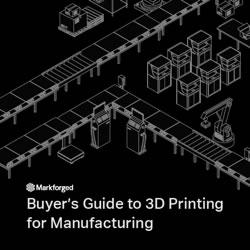 3D printing has become a powerful force in today's manufacturing industry from prototyping to tooling and fixtures to custom, end-use parts. Many businesses struggle to find the right solutions to fit their needs and provide ROI. Selecting the right platform to prevent manufacturing roadblocks is vital to optimizing your manufacturing line productivity. Download the all new buyer's guide to help you evaluate the benefits of 3D printing and dispel misconceptions, understand the pros/cons of various 3D printing processes and materials, and assess the key considerations in selecting a 3D printer.