A positive result of this activity is that we now have solid market place to get useable recycled material. While this is exciting ---NOW we need to move on to the second phase for recycling ----making money by producing viable products out of the recycled plastics.
Finding Sustainable Markets for Recycled Plastics

Jim Boos
Sales & Marketing
Wilmington Machinery
The Basics: Recycling Materials
Now that recycling has come to the forefront of everyone minds in the past few years. More companies, individuals and cities are starting to really recycle and focus on global environmental sustainability. A positive result of this activity is that we now have solid market place to get useable recycled material. While this is exciting ---NOW we need to move on to the second phase for recycling ----making money by producing viable products out of the recycled plastics.
Currently, there are two basic sources for recycled material. The first is from consumer goods recycling (such as water/laundry bottles) and the other is process scrap (plastics leftover from plastic product manufacturing). Both sources offer plastics manufacturers with quality material for a variety of products and markets.
Consumer Recycled Plastics: Markets and Products
Today, there are finally a few good materials produced from recycled consumer goods that are available for manufactures to produce products that can generate extra income. Some examples include:
· Recycled vinyl can become playground equipment, film and air bubble cushioning
· HDPE bottles can go into making new bottles
· Other strong markets for HDPE are for lawn and garden products (such as edging), plastic lumber (decks, benches, picnic tables), film and sheet, and a variety of injection molding products (buckets, crates, pallets and automobile parts)
· Plastic pipe industry uses recycled HDPE
· Recycled LDPE can be used to manufacture bags, shrink film and compost bins.
· Rigid 5-gal buckets, common in construction, can be manufactured into artificial lumber for landscaping
Plastic process scrap recycling:
Currently most plastic recycling is of 'process scrap' from industry, i.e. polymers left over from the production of plastics. This is relatively simple and economical to recycle, as there is a regular and reliable source and the material is relatively uncontaminated. In addition, reusing plastic is preferable to recycling as it uses less energy and fewer resources.
However, no matter which source you decide to use for molding products you still need a good solid market. While some of the markets mentioned above are good ones to pursue, we found one in which has proven to be a viable one to pursue---plastics pallets.
A Solid Market for Making Money From Recycled Material: Plastics Pallets
Plastic pallets are growing globally in popularity due to their cleanliness, a shortage of available wood and the opportunity to use recycled materials. Because of their nearly limitless shape possibilities, plastic pallets can be designed to function and perform in superior ways compared to wooden pallets. However, our company has discovered that many recyclers might not have the experience or knowledge how to mold plastics pallets. So for this market we have developed the Lumina™ Plastic Pallet System.
Wilmington Machinery: Creating Solutions for Manufacturers
The Lumina™ Plastic Pallet System ensures simplicity but reliability of operation for applications in non-conventional or inexperienced molding situations. They are rugged yet easy to set up, intuitive to operate and low-cost to maintain.
This innovative turnkey process encompasses plastic pallet manufacturing from pellets to production. Of key importance, design features of the equipment require dramatically less floor space, enhancing the ability of processors to benefit commercially from the growing and profitable plastic pallet business. Also, many companies want to make their own pallets to eliminate the cost of the "middle man". The Lumina™ Plastic Pallet System has made meeting that objective easy, cost-effective and practical. It is available to produce any size pallet in production quantities from 150,000 to 800,000 pallets per year from a single machine.
Of special interest, the Lumina™ Plastic Pallet System enables plastic pallet producers a 'green" option based on sustainable design. The many benefits of this feature include the ability to process recycled material, a reduction of energy required for processing, a resulting product with a longer life span, plus suitability for post-production re-use and recycling.
Wilmington Machinery's new Lumina™ Plastic Pallet System is designed to operate on 100% recycled or co-mingled resin using either the structural foam or gas assist methods which are preferred to make heavy wall parts such as pallets. The system utilizes a unique "L" shape layout and clamping system that saves on floor space while maintaining the latest technology and integrity in machine construction.
About Wilmington Machinery:
Since its founding in 1972, Wilmington Machinery has been building high performance, low-pressure structural foam molding machines. In addition, the company has built custom extrusion, thermoforming, and industrial blow molding machinery, along with a primary line of high capacity rotary blow molding systems for polyolefin monolayer/ multilayer barrier blow molded packaging. From a modern 65,000 SF facility in Wilmington, North Carolina, the company can easily meet any customer's need for extra-large plastics machinery. International shipments can also be arranged through the nearby deep-water Port of Wilmington.
For more information: www.wilmingtonmachinery.com
References:
http://www.popularmechanics.com/science/earth/4290631.html?page=2
http://www.popularmechanics.com/home_journal/how_your_house_works/4291566.html
http://www.wasteonline.org.uk/resources/InformationSheets/Plastics.htm
http://www.americanchemistry.com/plastics/doc.asp?CID=1581&DID=6012
http://www.genmill.com/plastic.html
Featured Product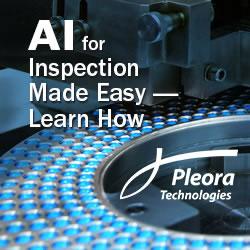 Pleora's AI Gateway is the most straightforward way to train and deploy artificial intelligence (AI) algorithms for inspection applications. With "no code" training, plug-in AI skills for detection, sorting, and classification, and processing flexibility to support open source and custom algorithms, designers and users can immediately reduce costly inspection errors while preparing for advanced Industry 4.0 and IoT applications.