Beckwood Press Company will be showcasing two high-precision forming machines in booth D45161 at FABTECH 2019.
Beckwood Press Company, a leading manufacturer of hydraulic and servo-electric presses, automation systems, and the Triform line of specialty forming equipment, will be showcasing their latest innovations in precision forming technology with two presses at FABTECH 2019. Visitors to booth D45161 will learn how to increase precision within their forming process and improve productivity using IoT and integrated machine intelligence.

The first machine, a 4,000lbf (2 ton) EVOx servo-electric press, is ideal for light-duty applications requiring high precision, cleanliness, and efficiency. Learn about the three modes of operation, and watch the press reach positional accuracy to within +/-0.0005". Gather instant feedback for diagnostics and maintenance using the data acquisition system which records key performance metrics at a rate of 1000 samples per second.
The second machine, a Triform model 610-20-3 deep draw sheet hydroforming press, is ideal for low-volume, high-mix part production. Watch how the pressurized rubber diaphragm easily forms complex net-shaped parts over a single, un-mated tool while diaphragm pressure and punch position are tightly controlled (to 1% of full scale and +/-0.002" respectively). Using the proprietary "In-Sight" tool, easily develop the perfect recipe for any deep drawn part.
Both presses feature intuitive controls, recipe handling, and data acquisition for strict part traceability as well as a PressLink™ remote support module which connects Beckwood technicians with the press in the field to expedite troubleshooting, maintenance, program updates, and training. The connectivity of these machines allows the IoT to be utilized for maximum uptime and predictability.
"With the increasing demand for highly precise forming equipment, Beckwood is continually developing and refining technologies," said Beckwood president Jeffrey Debus. "The EVOx and Triform presses on display at FABTECH are great examples of Beckwood's commitment to R&D and continuous improvement."
Visit beckwood.com/fabtech for more information and a free expo pass.
About Beckwood Press Company
Beckwood Press Company is a leading manufacturer of hydraulic and servo-electric presses, located in St. Louis, MO - USA. Established in 1976, they offer both standard and custom presses as well as automation equipment for virtually every industry and application, including a line of temperature-controlled presses for compression molding and high-temperature hot forming / SPF applications. Beckwood also manufactures the Triform line of precision forming equipment and the EVOx line of servo-electric presses. Get the latest news from Beckwood at beckwoodpress.com/news.
Featured Product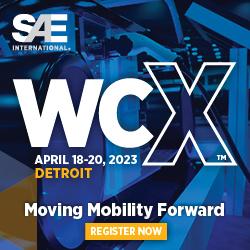 The largest technical mobility event in North America returns to Detroit from April 18-20, 2023. Join thousands of engineers, executives, suppliers, academics and R&D professionals for WCX™ World Congress Experience to exchange ideas, discuss today's challenges, and build powerful relationships to move your career and the mobility industry forward. Register today at sae.org/wcx.