All abstracts accepted for presentation will require a PowerPoint submission prior to the conference.
An official call for presentations has been announced for MIM2020, International Conference on Injection Molding of Metals, Ceramics and Carbides, to be held at Hotel Irvine, March 2-4, 2020, in Irvine, California. Potential authors have until October 4, 2019, to submit presentation abstracts on manufacturing innovations and material advancements. All abstracts accepted for presentation will require a PowerPoint submission prior to the conference.

Innovation is responsible for the rapid growth of the powder injection molding industry (metal injection molding, ceramic injection molding, and cemented carbide injection molding), a nearly $2 billion advanced manufacturing industry. Sponsored by the Metal Injection Molding Association, a trade association of Metal Powder Industries Federation and its affiliate APMI International, MIM2020 brings together product designers, engineers, end users, manufacturers, researchers, educators, and students for technology transfer.
Visit MIM2020.org for submission guidelines.
About the Metal Injection Molding Association The Metal Injection Molding Association operates as a trade association within Metal Powder Industries Federation, an incorporated trade organization. Its objectives include improving and promoting the products of the metal injection molding industry, and to promote investigation, research, and interchange of ideas among its members, among other objectives. About the Metal Powder Industries Federation Metal Powder Industries Federation is the North American trade association formed by the powder metallurgy industry to advance the interests of the metal powder producing and consuming industries and provides a single point of reference for all MPIF member companies
About APMI International APMI International is a non-profit professional society which promotes the advancement of powder metallurgy and particulate materials as a science. Its purpose is to disseminate and exchange information about PM and particulate materials through publications, conferences, and other activities of the society.
Featured Product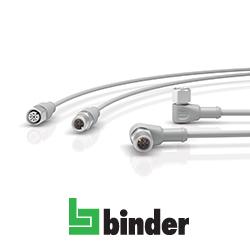 binder USA, LP, has expanded the M12 product family with the addition of the M12 A-Coded Connector, which is now certified for both Ecolab and FDA Code of Federal Regulations (CFR) Title 21 standards. The M12 A-Coded connectors are extraordinarily durable and IP69K-rated, ideal for harsh-duty and washdown applications in the food and beverage, pharmaceutical, and chemical industries. Available in 3, 4, 5, 8, and 12 contacts, the high quality stainless steel locking rings (V4A) and gold contact plating can also withstand UV exposure and shock and vibration.