The revamped mobile showroom will travel to customers and events around the United States and Canada
Mitsubishi Electric Automation, Inc. has announced the launch of its new mobile showroom. The company has operated a mobile showroom since 2012, but for 2019, it conducted an overhaul, including a new trailer and exhibit stations.

The 53-foot trailer provides a large central area allowing visitors to comfortably explore the exhibit stations, which are interconnected via the CC-Link IE Field industrial network, letting guests view the status of every exhibit station from one location. The mobile showroom stations present innovative topics such as smart machines, robotic integration, predictive maintenance and engineering productivity, as well as highlighting solutions for challenges such as transitioning to current generation products and machine safety. The trailer also includes a convenient meeting room to facilitate further discussions in a welcoming environment.
The trailer travels throughout the United States and Canada, bringing Mitsubishi Electric solutions direct to customer locations, and appearing at events such as expos and trade fairs from Southern California to Newfoundland, Canada.
"Most people who are in the manufacturing industry find attending some of the larger tradeshows to be cost prohibitive," said Sloan Zupan, director of corporate marketing at Mitsubishi Electric Automation, Inc. "The mobile showroom allows everyone to see the broad portfolio of solutions which address manufacturing challenges and the latest innovations in industrial automation technology without the expense associated with attending traditional national tradeshows."
More information on the mobile showroom, including a calendar of events and locations, can be found at MitsubishiInMotion.com. More information about Mitsubishi Electric Automation can be found at https://us.mitsubishielectric.com/fa/en.
About Mitsubishi Electric Automation, Inc. Headquartered in Vernon Hills, Ill., Mitsubishi Electric Automation, Inc., offers a wide range of factory automation products, solutions, training and support services for the industrial and commercial sectors. A U.S. affiliate company of Mitsubishi Electric Corporation, Mitsubishi Electric Automation represents more than 75 years' experience in the automation industry. A broad product portfolio includes programmable automation controllers (PAC), programmable logic controllers (PLC), human machine interfaces (HMI), variable frequency drives (VFD), servo amplifiers and motors, control software, computerized numerical controllers (CNC), motion controllers, robots and low-voltage power distribution products. The company takes its solutions on the road with the 53-foot long Solutions in Motion mobile showroom that appears at tradeshows, training seminars and other events across North America. Additional information about Mitsubishi Electric Automation is available at us.MitsubishiElectric.com/fa/en. In addition to factory automation, Mitsubishi Electric US group companies' principal businesses include semiconductor devices, automotive electrical components, elevators and escalators, heating and cooling products, electric utility products, and large-scale video displays for stadiums and arenas. Mitsubishi Electric US group companies have 38 locations throughout North America with approximately 4,000 employees.
Featured Product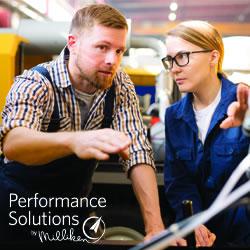 Performance Solutions by Milliken is a dedicated consulting and training group that helps guide businesses toward success. From supply chain, to operations and safety, we're dedicated to developing sustainable results for our clients through the implementation of a holistic operating system. We believe engaging all associates in the process will systematically transform your company to create efficiency, uncover hidden capacity, and generate long-term gains. Are you ready to reinvent your operations and transform your organization? Let's get started.