SERG to represent Cementex in the Southeast U.S.
Burlington, NJ - Cementex, the safety tool specialists, announces that the company has a new Sales Representative for states in the Southeast U.S., including Louisiana, southern Mississippi, southern Alabama, and the panhandle of Florida. With this new partnership, Cementex looks forward to continued growth in the Southeast region.

The Southeast Electrical Representative Group, known as SERG, Inc., partners with top manufacturers in the industrial, commercial and residential electrical industry. The company began representing Cementex in May of 2019. SERG, Inc. prides itself on its reputation for hardworking, honest, loyal customer service, and provides not just sales but also customer service, order entry, expediting, and marketing programs.
Customers can contact SERG, Inc.'s offices in Covington, Louisiana at (985) 892-4343, or can find more information at http://theserginc.com/manufacturers.htm.
All Cementex products are made in the U.S.A. to the highest standards of quality. For more information about Cementex's industry-leading products, visit our online catalog.
###
About Cementex
Cementex is the innovative, industry-leading supplier of safety hand tools. As the only double-insulated hand tool supplier that controls the entire manufacturing process from insulation through testing, Cementex has an unparalleled commitment to quality and user safety. With constant innovation in response to customer needs, Cementex is on the cutting-edge of both custom and turn-key engineered insulated tools. The design-driven company is continually innovating while remaining committed to producing only the highest quality safety-based products. For all of your safety equipment needs, including tools, personal protective equipment, and more, turn to the experts at Cementex. Visit www.cementexusa.com or call 1-800-654-1292 for additional information.
Featured Product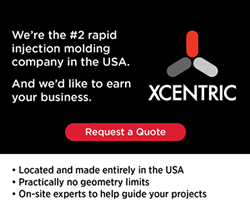 Xcentric plastic injection molding services focus on rapid delivery of prototype and low-volume production components. Our production processes are streamlined such that we typically deliver first articles in less than 15 business days, and for simple expedited projects in as little as five days. At the other end of the spectrum, we frequently produce components for customers needing a few hundred thousand components as a bridge to higher productivity molds. Over time, we have earned a reputation for being able to handle highly complex projects, overmolding, custom insert molding, and other complicated projects much faster than with traditional tooling, often helping our clients get to market weeks, if not months earlier. At Xcentric, every mold is designed and fabricated and all production is run in one of our two Michigan-based facilities.