Conference to Explore Intelligent Edge-Fog Solutions for the IoT
The Industrial Internet Consortium® (IIC™), now incorporating OpenFog, today announced it will host the Open Edge Symposium™ 2019 from December 11-12, 2019 at the Long Beach Convention Center, Long Beach, CA. Formerly Fog World Congress™, the conference brings together industry leaders, technologists and researchers from around the world and is designed to advance the potential of intelligent edge solutions for the IoT.

This two-day symposium will explore the new intelligent edge computing paradigm in three conference tracks:
Advances in Innovation - research and standardization activities and opportunities on intelligent edge within industrial processes for IoT, AI/ML and connectivity.
Technical - the impact of technology on edge computing.
Business Outcomes - real-world use cases that have delivered a business impact to a company/industry.
"The new intelligent edge paradigm calls for a fundamental rethinking of computing and networking architectures. It is disrupting existing business models and reshaping industry landscapes," said Dr. Richard Soley, Executive Director, IIC. "At the Open Edge Symposium, attendees can learn from and collaborate with the best minds in intelligent edge."
Today, the IIC also announced that Dr. Mung Chiang, John A. Edwardson Dean of the College of Engineering, Purdue University, and IIC Steering Committee member, will deliver the keynote for Open Edge Symposium 2019. Dr. Chiang founded the Princeton Edge Lab ten years ago as one of the first university labs dedicated to edge computing, and he will share his vision and provide insights about how the intelligent edge paradigm will evolve over the next ten years.
Speaking opportunities are still available through the Call for Papers. Interested speakers must submit applications by September 13, 2019. Preference will be given to end-user speakers who can share their experiences. The Open Edge Symposium Program Committee is looking for speakers in the following technology areas:
Global IoT, 5G, AI Trends
IIoT Futures - Autonomous Cars, Aerial Drones
Smart Industry Use Cases
Security & Privacy
Intelligent Edge & Cloud
Open Standards & Interoperability
Intelligent Edge in AI
Intelligent Edge in Industrial IoT
Intelligent Edge in 5G
Intelligent Edge & Blockchain
Registration for Open Edge Symposium is open now. Note: there are discounts for IIC and OMG members.
About Industrial Internet Consortium
The Industrial Internet Consortium, now incorporating OpenFog, is the world's leading membership program transforming business and society by accelerating the Industrial Internet of Things (IIoT). The IIC delivers a trustworthy IIoT in which the world's systems and devices are securely connected and controlled to deliver transformational outcomes. The Industrial Internet Consortium is a program of the Object Management Group (OMG). For more information, visit http://www.iiconsortium.org.
Featured Product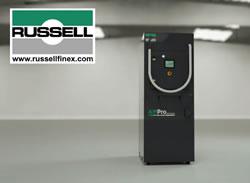 The Russell AMPro Sieve Station™ guarantees the quality of your additive manufacturing (AM) powder, and has been designed to provide optimum sieving efficiency, ensuring your powder is ready for use or reuse as and when you require it. With a simple one-button operation and mobile design, this automated check screener ensures your powder at every stage of the process is qualified for use quickly and safely. The flexibility of the Russell AMPro Sieve Station™ means you can use the system for numerous powder handling tasks - being a modular design ensures the machine can be configured to meet your exact requirements.