Physik Instrumente (PI) has issued an open invitation to leading technology organisations focused on precision automation to attend a free conference entitled Precision automation for the future, improving speed, accuracy and throughput.
The one-day event, taking place at PI's Cranfield office on the 5th of June 2019, and repeated on the 6th, will give delegates the opportunity to learn from key opinion leaders in the industry and network over lunch with like-minded individuals working in the sector.

The demand for automation solutions that deliver increased precision, productivity and quality in manufacturing processes is growing. Close harmony between the mechanics, control architecture and peripheral devices is essential for optimised speed, accuracy and repeatability in applications where multi-axis precision motion is fundamental. Operating real-time networks, using sophisticated control algorithms, and optimising complex mechanical designs, are just some of the things that need to be considered. This event will explore different aspects of precision automation, using case studies and practical demonstrations to demonstrate what is possible today, as well as discussing future applications of the technology.
To learn more and register, visit https://bit.ly/2IS3JxD
The deadline for reservations is the 21st of May 2019.
Featured Product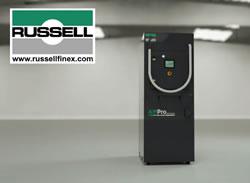 The Russell AMPro Sieve Station™ guarantees the quality of your additive manufacturing (AM) powder, and has been designed to provide optimum sieving efficiency, ensuring your powder is ready for use or reuse as and when you require it. With a simple one-button operation and mobile design, this automated check screener ensures your powder at every stage of the process is qualified for use quickly and safely. The flexibility of the Russell AMPro Sieve Station™ means you can use the system for numerous powder handling tasks - being a modular design ensures the machine can be configured to meet your exact requirements.