Infrared Laser Diodes in an SMD Package
Bedford, NH: LASER COMPONENTS USA, specialized provider of components and services in the laser and optoelectronics industry, now also offers diodes for the NIR wavelength 940 nm in an SMD package.

They are available in the following two product versions: ADL-94Y01IY-F1 and 94Y01EY-F2. The main difference lies in their package design. At a height of just 0.75 mm and a footprint of 3 x 3 mm (IY-F1) or 3.5 x 3.5 mm (EY-F2), both versions achieve an optical power of 200 mW. At temperatures of up to 50°C, they exhibit consistently high performance.
The manufacturer has designed these laser diodes for distance measurements, 3D sensor applications, and the pumping of fiber lasers.
The Company
LASER COMPONENTS specializes in the development, manufacture, and sale of components and services in the laser and optoelectronics industry. At LASER COMPONENTS, we have been serving customers since 1982 with sales branches in five different countries. We have been producing in house since 1986 with production facilities in Germany, Canada, and the United States. In-house production makes up approximately half of our sales revenue. A family-run business, we have more than 220 employees worldwide.
» www.laser-components.com
Featured Product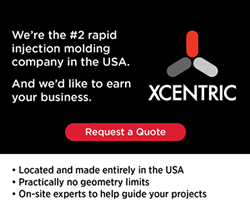 Xcentric plastic injection molding services focus on rapid delivery of prototype and low-volume production components. Our production processes are streamlined such that we typically deliver first articles in less than 15 business days, and for simple expedited projects in as little as five days. At the other end of the spectrum, we frequently produce components for customers needing a few hundred thousand components as a bridge to higher productivity molds. Over time, we have earned a reputation for being able to handle highly complex projects, overmolding, custom insert molding, and other complicated projects much faster than with traditional tooling, often helping our clients get to market weeks, if not months earlier. At Xcentric, every mold is designed and fabricated and all production is run in one of our two Michigan-based facilities.