Staubli collaborates with Alliance AutoGas, providing the nozzles for autogas fueling. Ergonomic and easy to use, the GPV14 refueling nozzle is ideal for self-service filling Propane vehicles with ISO19825 K15 receptacle profile.
Duncan, SC (April 4, 2019) Staubli joins Alliance AutoGas, booth #130 at the NPGA Expo in Atlanta, GA, April 11th-15th, to demonstrate gas solutions. The National Propane Gas Association (NPGA) is the national trade association representing the U.S. propane industry. Small businesses and large corporations engaged in the retail marketing of propane gas and appliances; producers and wholesalers of propane equipment; manufacturers and distributors of propane gas appliances and equipment; fabricators of propane gas cylinders and tanks; and propane transporters will come together to learn the latest technology and activities going on the Propane Industry.

Alliance AutoGas offers solutions to help American fleets transition from gasoline to autogas, the world's most popular alternative fuel. They have worked diligently to launch a successful autogas program as an easy, affordable way to reduce gasoline consumption, cut fuel costs and lower vehicle emissions. From converting vehicles to providing safety training, Alliance AutoGas provides better options for environmentally friendly fuels.
Staubli collaborates with Alliance AutoGas, providing the nozzles for autogas fueling. Ergonomic and easy to use, the GPV14 refueling nozzle is ideal for self-service filling Propane vehicles with ISO19825 K15 receptacle profile. The UL listed Staubli GPV15 nozzle for propane guarantees perfect safety for operators and installations.
Why Autogas? Organizations large and small desire to implement sustainable solutions. Autogas can help you balance the energy equation.
Autogas fleets experience fuel cost savings. With autogas, fleets can cut their operating and fuel costs substantially by converting their existing fleet vehicles. Autogas costs on average at least $1.00 less per gallon than gasoline, and the implementation costs are significantly less than for other alternative fuel options. Historically, propane autogas costs less than gasoline or diesel and is more insulated from the price spikes conventional fuels experience.
An additional benefit is the environmental impact. Sustainability means more than renewable energy; it means good stewardship of our natural resources and meeting the needs of today while ensuring those of future generations are met. This requires a balanced energy equation including technology, economics and protecting the environment.
Some energy alternatives with great promise are not immediately actionable because they are not yet able to balance this value equation. Autogas is a viable solution now because it has already balanced these crucial elements.
Want to learn more? Stop by Alliance AutoGas booth #130 to learn more about ease of use alternative fueling for private and public vehicles.
About Alliance AutoGas
Alliance AutoGas (AAG) is an international network providing a comprehensive propane autogas solution to medium and heavy-duty fleets. Alliance AutoGas is managed by its parent company Blossman Gas Inc., the largest privately-owned propane company in the United States. Alliance AutoGas is comprised of more than 120 independent propane marketers and authorized conversion centers throughout North America. Alliance members are aligned to provide propane autogas for vehicles and lawn care companies throughout North America.
Visit : https://www.allianceautogas.com to learn more about Alliance AutoGas.
About Stäubli North America
Stäubli North America has over 200 employees supporting Textiles, Connectors and Robotics customers. The company's North American headquarters is located in Duncan, S.C., and the sales force is strategically placed on the West Coast, Canada, Mexico and elsewhere thoughtout the continent.
Staubli Fluid Connectors - As one of the leading manufacturers of quick connector systems, Stäubli covers connection needs for all types of fluids, gases and electrical power. Our standard and specialized products, including single and multi-pole connectors, tool changers and quick mold change systems, combine performance, quality, safety, dependability and durability.
Visit www.staubli.us for more information on the company and products.
Featured Product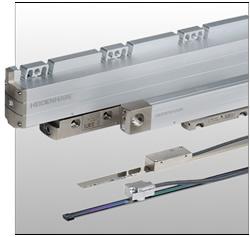 Nothing beats the positioning accuracy of linear encoders from HEIDENHAIN. Available in absolute and incremental versions and ideal for a variety of applications-including machine tools, semiconductor machines and medical machines-these measuring solutions combat a variety of issues that erode precision.