SICK demonstrates how to obtain greater efficiency throughout supply chain operations
MINNEAPOLIS, MINN., APRIL 8, 2019 - In an effort to provide highly-efficient solutions for intralogistics applications, SICK is presenting how "Logistics Gets Smart" at its booth at ProMAT 2019.

This flexibility in production and logistics has been made possible by sensor intelligence: programmable and self-learning cameras, reliable safety sensors for human-robot collaboration, reliable track and trace systems on conveyors, and state-of-the-art Package Analytics software to monitor performance. All these devices are connected with one another via the cloud, implementing Industry 4.0 along the entire value-creation process.
In complex warehouse systems, sensor solutions ensure optimum storage space assignment and accident-free handling by transport shuttles. Integrated cameras and photoelectric sensors automatically detect objects, monitor possible overruns, and position the shuttles precisely in front of shelf bays. This keeps everything safe and efficient.
The Package Analytics software from SICK also offers the possibility of monitoring systems and keeping an eye on their performance. This ensures traceability and also allows the accuracy and efficiency of sorting processes to be improved - whether on a conveyor belt, in a freight center or in the overall network.
When Logistics Gets Smart, flexibility is an added benefit. The supply chain is taken over by driverless transport systems (whose autonomous navigation is shown live) together with collision prevention solutions. The data from all the sensors in the smart factory are evaluated on a large display giving visitors a constant overview of logistical and production processes as well as key performance indicators.
About SICK
SICK is one of the world's leading manufacturers of sensors, safety systems, machine vision, encoders and automatic identification products for industrial applications. With more than 1000 patents, SICK continues to lead the industry in new product innovations. The diversity of its product line allows SICK to offer solutions at every phase of production in the logistics, automotive, packaging, electronics, food and beverage, and material handling markets. SICK AG was founded in 1946 and has operations or representation in 65 countries worldwide.
http://www.sickusa.com
Featured Product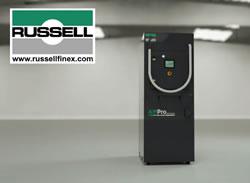 The Russell AMPro Sieve Station™ guarantees the quality of your additive manufacturing (AM) powder, and has been designed to provide optimum sieving efficiency, ensuring your powder is ready for use or reuse as and when you require it. With a simple one-button operation and mobile design, this automated check screener ensures your powder at every stage of the process is qualified for use quickly and safely. The flexibility of the Russell AMPro Sieve Station™ means you can use the system for numerous powder handling tasks - being a modular design ensures the machine can be configured to meet your exact requirements.