For each use case within a factory, floor managers or business heads need to find separate products that suit their respective needs. Thingify aims to smoothen this by providing a suite of smart products that addresses everybody's needs in one consolidated platform.
Ideas2IT is a product engineering firm that works on cutting edge technologies. Their main focus areas are IIoT, blockchain & data science. Today, they've launched Thingify.ai, a suite of AI-powered IIoT products that aims to make manufacturers more efficient. Thingify aims to give shopfloor managers more insights into their equipment & operations in order to improve OEE (Overall Equipment Efficiency).

"There is a lot of data available in factories, but precious few products to deal with data comprehensively,'' says Bhavani, who heads Thingify. "Most products available today cater to only a part of the analytics required to maintain a whole factory." "We're looking to close that gap with Thingify. Equipment managers get a holistic view of everything happening in their plants. They can monitor their assets, predict downtimes, and act proactively to ensure maximum running time in their factories".
Thingify offers 3 distinct products: Asset Management Software, Predictive Maintenance Software & Factory.360. Between these 3, manufacturers are able to gain a holistic view of the functioning of their factories.
Asset Management Software
A highly secure asset management platform that allows users to constantly stay in the know about the condition of their assets. It also comes with in-built predictive capabilities that allows users to get ahead of unexpected downtimes. This platform is scalable, has easy & intuitive dashboards and can integrate with existing backends like CRMs, PLCs & so on.
Predictive Maintenance
A platform that allows users to drastically reduce downtimes & improve efficiency, ultimately saving costs. By reducing downtimes, giving factories a greater chance of meeting deadlines. The algorithms associated with this platform can also help in optimizing asset running time, saving money in the process. It is possible to retrieve actionable data from every single sensor in your factory through this platform.
Factory.360
A full-cycle platform that gives the most comprehensive picture of the factory to plant & floor managers. Powered by top-notch data scientists, Factory360's algorithms can lead to greatly increased productivity & reduced costs. Right from machine operators to business executives, Factory.360 provides everyone with actionable data. Users will be able to optimize asset performance, minimize volume of output lost due to delays & optimally plan maintenance work.
"At the end of the day, these solutions stem from a business need; a need to constantly cut costs while maintaining efficiency & productivity. The field of AI has enabled several industries take advantage of it." added Bhavani. "We've built a great data science practice, dating back to late 2016. We hired Ivy League grads, mathematicians and the lot. We were able to use our expertise and come up with a comprehensive IIoT solution." concluded Bhavani.
To find out more about Thingify or the individual products, reach out to bhavani@thingify.ai
Featured Product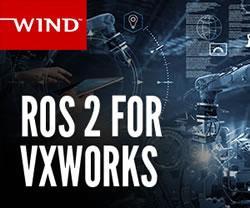 Develop new robotic capabilities with ROS 2 for VxWorks. ROS 2 for VxWorks® project provides custom modifications and build scripts to integrate the Robot Operating System 2 (ROS 2) framework with VxWorks 7. ROS 2 is a set of software libraries and tools that aid in building robot applications. Build ROS 2 for VxWorks using 1) with a VxWorks SDK that is available on the site under a free non-commercial use license; or via 2) with a commercially-licensed VxWorks product.