From online design tools to subassemblies, kits, and innovative components like the new DGST mini slide, Festo features must-see solutions for motion automation at Automate 2019.
ISLANDIA, NY, March 28, 2019 — Festo displays cutting edge electric and pneumatic motion automation solutions at Automate 2019, April 8-11, McCormick Place in Chicago. Productivity enhancing solutions include company-wide component interoperability and online tools for designing subassemblies that slash OEM engineering overhead and reduce delivery time. Festo Booth #8151

With the Festo Handling Guide Online, engineers can design single axis, 2D, or 3D Cartesian robots and receive CAD files in as little as 20 minutes. The robots are delivered either as subassemblies or as kits. Seamlessly and automatically, the new Festo Motion Control Package (FMCP) designs the robot's control panel utilizing data generated from the Handling Guide Online session. After delivery, it requires just a few hours to add power to the control panel and configure the robot's motion profile. Festo presents an active demo of a Cartesian robot and FMCP panel at its Automate booth.
Festo displays for the first time the new DGST pneumatic mini slide. The slide and yoke plate on this compact component represent a single unit. This eliminates the problems associated with yokes vibrating loose from slides. The DGST features high feed forces, symmetrical mounting interfaces, and precise and resilient roller bearing guides. The DGST can be operated without additional cushioning devices, which contributes to the component's small footprint.
The new DHEF adaptive gripper offers maximum flexibility while requiring minimum engineering. The adaptive gripper can hold a range of shapes, unaligned objects, and several objects at once. The DHEF is suitable for human/machine interaction.
The new, low-cost linear axes ELGC and mini slide EGSC electric actuators are used for applications where compact dimensions are essential. These axes can be combined into space-saving handling systems that fit seamlessly into assembly, test and inspection, small parts handling, and desk top applications. They offer an optimal ratio between installation space and working space. The axes and mini slide feature a common system approach, platform architecture, and adapter-less connections.
The configurable YJKP servo press kit for electrical press-fitting and joining can be tailored to the needs of the user, guaranteeing a flexible design and reducing investment costs. At Automate, Festo demonstrates the ease of use and versatility of the servo press kit's software - this solution's differentiating feature.
Festo shows three different electric drives in a gripping, picking, and placing application. A similar configuration could be used for capping and de-capping small vials or for stopping and separating workpiece carriers on a transfer system.
Festo displays a selection of electric drives and linear actuators, IO Link fieldbus solutions, grippers, compact valves and valve terminals, and the new line of NFPA cylinders from its Fabco-Air business unit.
"Every aspect of Festo motion automation technology is driven toward the goal of engineering productivity for customers and the sales channel," said Chip Arnold, District Sales Manager. "We encourage attendees to stop by booth 8151 and learn more about our latest innovations."
For more information, call 800-993-3786 and/or visit https://www.festo.us.
Featured Product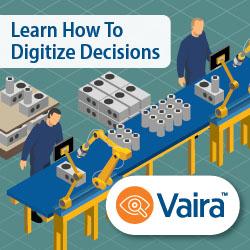 Vaira™ helps manufacturers digitize, automate, and upgrade error-prone manual processes and decisions to boost productivity and increase profits by helping humans make decisions consistent, reliable, and traceable. The camera-based solution is powered by a scalable suite of shop floor-ready apps built on proven machine vision and AI expertise for frontline manufacturing operations, with two-way integration to resource planning tools to help drive continuous analysis, insight, and improvements. Start digitizing immediately, streamlining processes customized to your unique requirements and reduce errors that lead to costs, delays, and quality concerns.