Swiss measurement technology experts exhibit a comprehensive portfolio for industrial process control
Kistler is demonstrating its comprehensive measurement chain for press-fit and joining processes including force sensors, light barriers, maXYmos monitoring units and robotics application at the Automate Show 2019 in Chicago, Illinois, from April 8-11, 2019 at booth 9354.

The increasing network of machines and systems driven by Industry 4.0 calls for efficient and flexible industrial manufacturing solutions. Individual production processes have to be optimized consistently and continuously to remain competitive in the long run. Kistler offers a range of monitoring and control solutions for press-fit and joining processes, including sensors, measuring chains, monitors, evaluation units and joining modules for automated assembly and robotic applications.
All-round process monitoring and control solutions from Kistler
Kistler's portfolio includes the maXYmos family, a comprehensive range of products with a uniform operating philosophy for a variety of tasks, such as XY process monitoring or the extended control of joining modules. At the Automate Show, the Swiss measurement technology expert will be demonstrating a complete measuring chain for medical applications, which comprises force sensors, light barriers from Vester, maXYmos monitoring and evaluation units, and robotics applications from Mecademic.
In a demo set-up at the booth, a light barrier triggers a measurement: the robotics application with integrated force sensor tests the medical device. Next, the measurement curves are displayed on the maXYmos monitor, which distinguishes between good and bad assessment results, thus helping manufacturers eliminate faulty products.
As part of the Innovation Showcase Presentations, Frank Kirgis, Head of Kistler's Industrial Process Control Division, will be giving a speech on "Smart applications with sensors and monitoring solutions: making the difference in IIoT & Robotics" at the "Win the Future" theater.
About the Kistler Group
Kistler is the global market leader for dynamic pressure, force, torque and acceleration measurement technology. Cutting-edge technologies provide the basis for Kistler's modular solutions. Customers in industry and scientific research benefit from Kistler's experience as a development partner, enabling them to optimize their products and processes so as to secure sustainable competitive edge. Unique sensor technology from this owner-managed Swiss corporation helps to shape future innovations not only in automotive development and industrial automation but also in many newly emerging sectors. Drawing on our extensive application expertise, and always with an absolute commitment to quality, Kistler plays a key part in the ongoing development of the latest megatrends. The focus is on issues such as electrified drive technology, autonomous driving, emission reduction and Industry 4.0. Some 2 200 employees at more than 60 facilities across the globe are dedicated to the development of new solutions, and they offer application-specific services at the local level. Ever since it was founded in 1959, the Kistler Group has grown hand-in-hand with its customers and in 2018, it posted sales of CHF 475 million. About 8% of this figure is reinvested in research and technology - with the aim of delivering better results for every customer.
Featured Product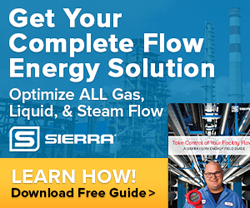 Download Flow Energy Guide - Written by Engineers For Engineers. Learn how to save on energy costs by optimizing your facility flows that impact costs like compressed air, natural gas, steam, and hot or chilled water.