The 2019 conference, running May 21-22, puts the spotlight on accelerating space system development through new partnerships and innovative technologies and creates unparalleled opportunity for ideas generation, networking, and learning.
Pasadena, CA - (March, 2019) When Space Tech Expo opens its doors on May 21 in Pasadena, California, it will launch its most comprehensive conference program to date.

The 2019 conference, running May 21-22, puts the spotlight on accelerating space system development through new partnerships and innovative technologies and creates unparalleled opportunity for ideas generation, networking, and learning. This year's theme, "Securing your place in space: accelerating system development through new partnerships and innovative technologies", serves to benefit businesses pursuing expansion in the rapidly evolving space technology sector.
Among this year's speakers are NASA Administrator Jim Bridenstine -, who will discuss facilitating a commercial space environment to sustain habitation, science, and discovery in low Earth orbit (LEO).
Joining NASA on the agenda are scores of experts and specialists from companies including Lockheed Martin, NanoRacks, Rocket Lab, Defense Innovation Unit, and Commercial Spaceflight Federation. During two days of technical and industry-focused sessions, forums, and workshops, Bridenstine and his government and industry colleagues will delve into a comprehensive range of subjects - from adapting to new opportunities in the launch vehicle industry and ensuring satellite resiliency, to taking additive manufacturing to the next level and optimizing mission agility with autonomous systems. The conference covers specific focus areas that reflect major industry changes.
Delegates stand to gain a closer look at recent private and public partnerships; better understand developments in the launch systems and satellite industries; refresh their knowledge on movements in LEO commercialization; and become better acquainted with new manufacturing methods - including the challenges and opportunities associated with implementing industry 4.0 technologies.
New for 2019 is a two-track pre-conference workshop program, which will take place on Monday May 20. Track 1 explores prioritizing manufacturing 4.0 investments and implementations and blockchain technology, while track 2 deep dives into the future of electric propulsion and holistic applications to space systems.
Meanwhile, Space Tech Expo also offers a comprehensive program of free technical sessions, where organizations and speakers highlight particular technology innovation. Experior Laboratories' Chris Johnson is among them, presenting a talk on optimizing pneumatic test assemblies for qualification and production testing. "It is an exciting time to be an engineer in the aerospace industry right now," he says. "We are seeing a strong increase of small sat and launch vehicle propulsion technology start-ups to accommodate the recent demand and so I find this an exciting and highly relevant topic to present at this year's technical sessions."
As the space industry undergoes rapid evolution, Space Tech Expo Conference delivers an exclusive program designed to ensure industry players remain informed, agile, and competitive. Pitched at all levels, the conference is inclusive, welcoming everyone from investors and venture capitalists, to C-suite professionals and all those along the entire supply chain, as well as government, civil, military and industry professionals.
Ensure your business remains cognizant of shifting industry trends by joining us in Pasadena, California, this May 21-22.
About Space Tech Expo
America's engineering and manufacturing meeting place for space technology returns to California for three days of knowledge sharing and networking alongside the largest supply chain exhibition of its kind.
With capabilities ranging from cryogenics, laser systems, materials, nanotechnology, imaging, environmental test, motion simulation, magnetics, capacitors, spacewire, NDT and connectors through to electroforming, engineering services, precision machining, 3D printers, ground systems, mission management and reconnaissance satellites, Space Tech Expo 2019 will bring a multitude of networking opportunities through focused receptions and events for attendees and exhibitors throughout the commercial, civil and military space supply chain.
Visitors can register for a free pass to access:
• 250+ exhibitors from all areas of the industry supply chain
• Free technical sessions
• 360 roundtable sessions
• Two days of live product demonstrations
• Exclusive networking receptions attended by industry personnel from all levels
• First look at innovations from technical designers, sub-systems suppliers, and manufacturers
Featured Product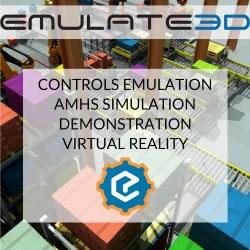 Emulate3D software helps you model and test your AMHS solutions rapidly. Use Demo3D to create running models quickly, then generate videos, stills, or view the models in virtual reality at the click of a button. Sim3D enables you to carry out experimental test runs to select optimal solutions and the most robust operating strategy, and Emulate3D Controls Testing is the best way to debug your PLCs offline, and off the project's critical path. Connect to major PLCs, import CAD, and plug into HTC Vive and Oculus Rift to produce awesome models!